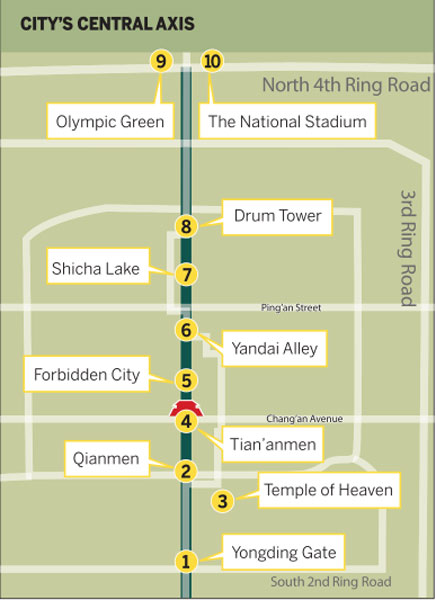 [Photo/China Daily]
A walk along the central axis of the capital is a journey through hundreds of years of imperial splendor and unique city lifestyle where history and modernity vie for attention, writes Raymond Zhou.
The 2008 Beijing Olympics opened with a trail of giant footsteps walking from southern Beijing all the way to the National Stadium on the north side of the capital. The footsteps were formed by successive salvos of fireworks shot into the night sky, so the best vantage point would be that of a bird or plane flying overhead.
That was certainly an impressive way of making an entrance fit for an imaginary giant. But do not despair. A mere mortal can follow that path and walk up the central axis of the ancient city with imaginary pomp and pageantry. You may not leave awe-inspiring footprints, but you will garner much more intimate impressions of the city and its people than the giant would have.
Symmetry is of paramount importance to traditional Chinese urban layout and architecture, especially for the imperial city and palaces. The Chinese word for "China" is Middle Kingdom or Central Kingdom because earlier inhebitants believed they were at the center of the world. According to legend, Beijing's central axis dates back to Kublai Khan (1215-1294), who shot arrows in four directions to determine the location of the capital of the Yuan Dynasty (often referred to as the Mongol Dynasty, AD 1271-1368). But that is definitely a legend that cannot be corroborated by science.
The invisible axis from that era was obviously inspired by capital cities of earlier dynasties. However, if you keep going north along the line, you will not end up at the North Pole. A few years ago, a Chinese scientist discovered the axis is two degrees to the west. After arduous research and investigation, he found that, 270 km to the north, lie the ruins of Shangdu, or Xanadu, the summer capital of the Khan.
Whether urban planners 750 years ago miscalculated, given their tools, or were ultraprecise in their calculation, we do not have enough evidence to determine. An accidental tourist should not be bothered by this, but rather use it to enhance his or her bragging rights.