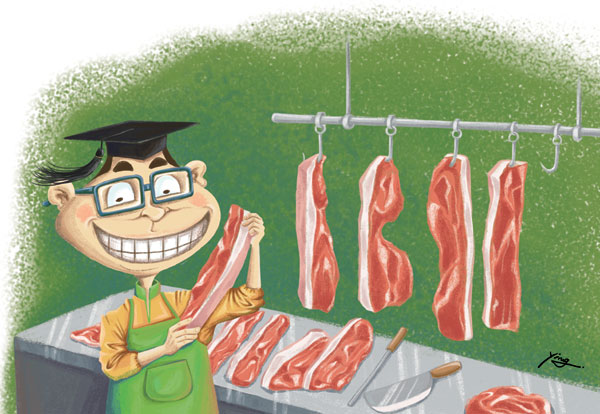 [Photo by Wang Xiaoying/China Daily]
When college graduates go for the 'road less taken', it could be the entrepreneurial spirit or an involuntary choice.
About a dozen years ago, Lu Buxuan shocked the nation when it was discovered he was a graduate of Peking University. He was a butcher. "How can someone with such an enviable education end up in such an unenviable position?" people asked.
Lu considers himself a failure. "I have dragged down the image of my alma mater," he laments. "I'm the prime example of what my alums should not be."
A few years later, Chen Sheng, another Peking University graduate, gave up his coveted job as a public servant and got into butchering. In just two years he had grown to have 200 chain stores with an annual revenue of 200 million yuan ($32.6 million; 26 million euros).
Granted, both Lu and Chen are outliers with career trajectories utterly unrepresentative of youngsters out of top schools. They are supposed to climb up the bureaucratic, business, academic or professional ladders. Sure, selling pork and other meat products counts as a business, but it ranks very low in the minds of most Chinese.
In the old days, one would need a little knowledge of arithmetic to operate a butcher shop, and nowadays that little skill has been taken over by the calculator, if not the automatic vending machine. So, you can be virtually illiterate and still be a competent butcher - not the proprietor though. In fact, the occupation of butcher is often used as an illustration in classic novels of brute force or absence of brainpower.
Generally, young Chinese come under the pressure of two forces while making career choices: One is pragmatism, meaning whatever job fetches the highest salary and perks is touted by parents and the media alike; and the other is conventional mindset, which often overlaps with the first consideration. Officialdom has always occupied the apex of the pedigree, and business much lower. To be of similar attraction, a position with a private business, for example, has to offer much more in compensation than a public servant's position.