Western stars and their Chinese nicknames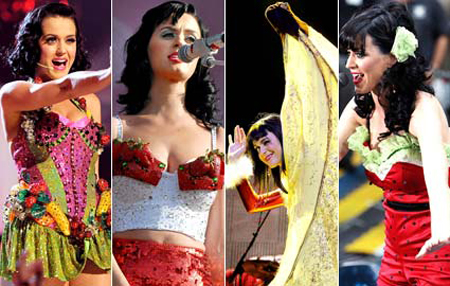 Singer Katy Perry is referred to as "Fruit Sister" by her fans in China. [Photo/i21st.cn]
American singer Katy Perry dazzled the stage with her powerful performance, accompanied by adorable shark figurines, at the Super Bowl halftime show. Chinese audiences also felt the buzz, but instead, they were talking about the "Fruit Sister."
"Fruit Sisiter", or 水果姐 (shui guo jie), is what people in China call Katy Perry. The name came from her tendency to wear fruit costumes and the use of giant fruits as stage props when she performs.
The Firework singer has previously performed in sparkly watermelon-cup bras, sung with a large inflatable strawberry and even burst out of a giant banana.
Perry isn't the only celebrity who has an interesting Chinese nickname. Here are some others and how their Chinese aliases came to be.