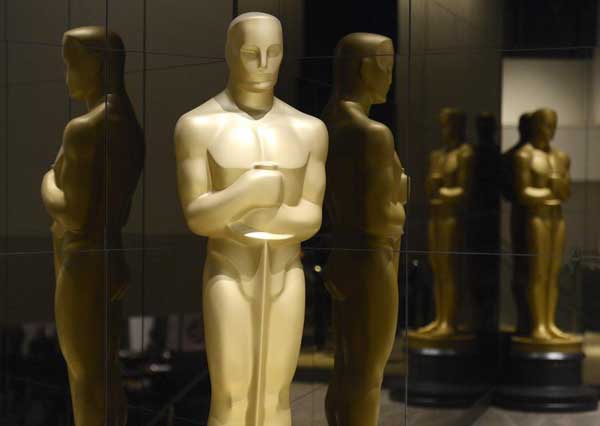 An Oscar statue is seen at the nominations announcement for the 87th Academy Awards in Beverly Hills, California January 15, 2015. [Photo/Agencies]
Oscar nomination has many variables to handle -- making the 87th Oscar Awards ceremony on Feb 22 full of expectations.
Before every year's Oscar comes to its climax, there's a long awards season of Hollywood. Starting from the end of the previous year, American film critics associations and guilds of screen release their choices of best of the year.
Some of these awards are authoritative and would become barometers for the Oscar awards, some are lively and colorful big parties for filmmakers and filmnik.
"Road to the Oscars" lasts three months
During the three-month season, associations and guilds are picking their finest films and filmmakers of the year.
The season starts with Gotham Independent Film Awards in November of the previous year, followed by about 40 awards of American film critics associations, such as New York Film Critics, Los Angeles Film Critics Association, Boston Society of Film Critics, etc. There are also awards from Screen Writers' Guild, Screen Actors' Guild, Screen Directors Guild, Producers Guild of America.
From the first step taken to the moment one finally mounts the Oscar the podium, the ups and downs in between are called "Road to the Oscars".