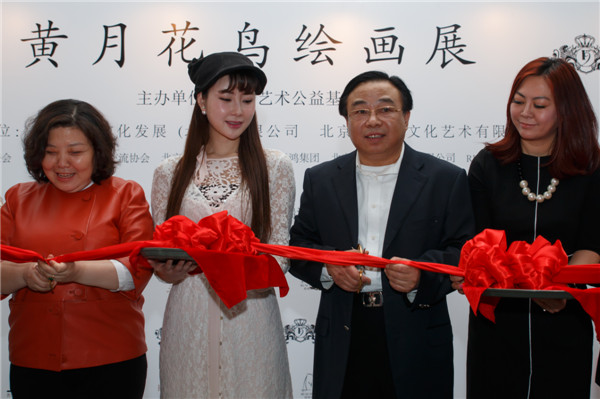 Huang Yue (second from the right) cuts a ribbon at the opening ceremony, Jan 24. [Photo provided to chinadaily.com.cn]
An exhibition of Huang Yue's oil paintings of flowers and birds at the Times Art Museum in Beijing lately showcased 80 of his works created over the past decade.
Traditionally, Chinese artists have used ink painting to capture the beauty of flowers and birds, but Huang has moved that tradition forward, employing a western style of oil painting. Huang said his paintings are created using a completely new and innovative technique.
He began fusing Chinese and Western styles in 2000 and nearly 20 of his pieces are included in the collection of the Rockefeller family. Steven Rockefeller Jr. and Kimberly Rockefeller have both expressed a fondness for Huang's work.
"Huang Yue's oil paintings of flowers and birds are unique, no matter in China or in the world. With sensational colors, daring brushwork and delicate themes, Huang combines all the elements into a rare piece of artwork with great charm," Steven Rockefeller once said
Artists paint not just to capture the beauty of what they see, but use shapes and contours as metaphors to express their inner feelings so a flower, through an artist's eyes, is not just a flower. It can be the symbol of femininity, peace, optimism and beauty. Every stroke is an expression of culture.
Huang said his paintings use flowers and birds to express a pleasant state of mind and a purified soul, and embodies them with the spirits and minds of human beings in the pursuit of beauty in nature.
The exhibition was the first leg of "Divine Impression – Huang Yue Art Exhibition Tour in China", hosted by the Rockefeller family.
Related:
Oil paintings of flowers and birds exhibited in New York