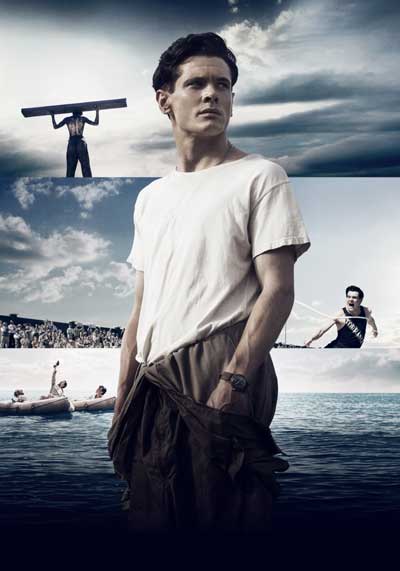 Jack O'Connell plays Louis Zamperini in the Hollywood blockbuster Unbroken. Photo provided to China Daily
For Chinese moviegoers, the movie Unbroken has it all-from being directed by Angelina Jolie to the screenplay written by Joel Coen and Ethan Coen to its cinematography by the 11-time Oscar-nominee Roger Deakins. In addition, there's popular Japanese singer Miyavi, who plays the villainous Mutsuhiro Watanabe.
But when Unbroken was screened across theaters on the Chinese mainland recently, box-office results weren't the most encouraging. The movie earned 21.5 million yuan ($3.4 million) in China by Tuesday, five days after its release here.
At a time when Chinese moviegoers are willing to pay more than 500 million yuan for a low-budget domestic comedy such as Running Man-a movie inspired by a South Korean reality TV show, and which was released on Jan 30, the same day as Unbroken-the Hollywood production's prospects in the mainland don't look very bright.
Running Man has already made 287 million yuan at the box office, even though critics haven't called it much of a movie.
Nominated for three Oscars this year, the war drama Unbroken came to the mainland after The Hobbit: The Battle of the Five Armies were released one week earlier.
Oscar nominees are now battling it out at the Chinese box office during what is considered the most profitable period-Lunar New Year.
Among other nominees that had critics raving, such as Boyhood and The Grand Budapest Hotel, have yet to be shown in mainland cinemas.
With Unbroken, the mainland's moviegoers get to watch a Pacific War-themed Hollywood movie after Windtalkers (2002), though there have been a number of domestic TV series and films on World War II.
Adapted from Laura Hillenbrand's best-selling book, Unbroken: A World War II Story of Survival, Resilience, and Redemption, Joile's movie tells the inspiring true story of US Olympian Louis Zamperini's 47 days in a raft on the Pacific Ocean and his two-year ordeal in prison camps after being captured by Japanese forces.