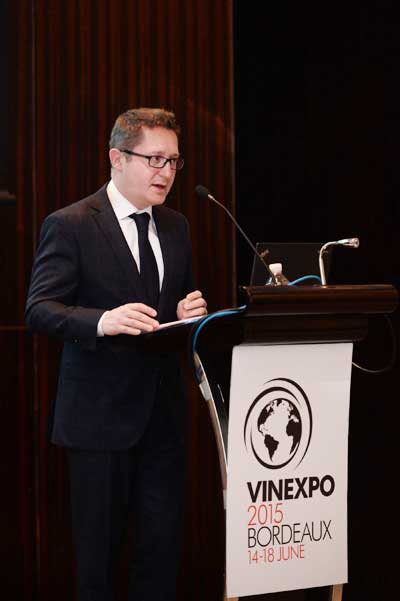 Guillaume Deglise, CEO of Vinexpo, says the positives of wine consumption in China assure impressive growth ahead. Photo provided to China Daily
China's clampdown on extravagance and corruption has been a dark cloud for makers of most luxury goods, but a new report suggests winemakers are seeing a big silver lining.
"To start with, there are 37 million Chinese who will reach drinking age in the next five years," says Guillaume Deglise, CEO of Vinexpo, the world's biggest international wine and spirits exposition.
"That's more than the population of Canada. Also, the middle class in China is growing by millions, despite the recent economic slowdown. Finally, per-capita consumption of wine in China remains very low-1.4 liters in 2013 compared with 12 liters in the United States. So the growth opportunity is definitely in China and the Asia-Pacific."
That, of course, is not a new trend.
The growth of wine consumption in China has been explosive for most of the past decade, until a series of anti-corruption policies was initiated by the central government in 2012. Spending on banqueting and expensive gifts slowed dramatically, undercutting domestic and imported wine businesses in a big way.
But Deglise, unveiling an annual report this week on the global wine industry compiled by International Wine and Spirit Research, says the positives in China assure impressive growth ahead.
From 2009 to 2013, Chinese wine consumption leaped 69.3 percent to reach a total of 162 million 9-liter cases, the equivalent of 1.94 billion bottles, making China the fifth-largest wine-consuming nation.
While industry experts say the recent spending slowdown will continue for up to two more years, according to the Vinexpo/IWSR report, a recovery is expected.
"Growth will never be as explosive as before," Deglise says.
"But the forecast is that, between 2014 and 2018, Chinese wine consumption will grow by a further 24.8 percent. That's twice as fast as the US market, which was the fastest-growing market in 2014 at 11.6 percent.
"We think grape wine is healthier than traditional baijiu and has a more sophisticated reputation that appeals to young and newly affluent Chinese. That's an important factor, long term."
Red wines continue to dominate the Chinese market, though roses, sparkling and sweet wines are all showing growth here as well as globally. The 2015 Vinexpo, which will open in Bordeaux in mid-June, will feature special tasting events for those three categories.
Related: