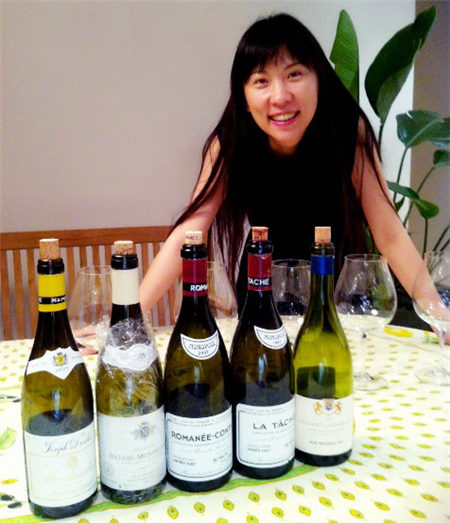 Chantal Chi with her collection of Burgundy wine. Photos provided to China Daily
Wine expert Chantal Chi, 47, has toured around the world in the pursuit of knowledge of wines and the areas where they are produced.
The prolific writer's Chinese book Burgundy Grand Crus (Bourgogne Grands Crus in French) was recently published by China Citic Press.
It introduces 33 grand cru vineyards in Burgundy - one of France's main wine producing regions, and her wine tasting experience. Burgundy is famous for its red and white wines, most of which are made from pinot noir and chardonnay grapes.
"For those who like wine, the happiest moment in life is to have a fantastic glass of wine. You will think of many things while drinking wine, such as strolling in a forest in autumn or in the spring garden," says Chi, who was born in Taiwan and studied Spanish at Fu Jen Catholic University in Taipei.
She once lived in France for more than a decade and also in Singapore and Hong Kong. In October, she moved to Bangkok from Shanghai, where she had been living for nine years.
"Grand cru vineyards are not only the top of a pyramid, but also the soul of Burgundy. I want Chinese consumers to understand Burgundy. Many consumers drink wine without even getting to know the winemaker's philosophy."
Chi has written several books and columns on wine and was awarded the Knight of the Order of Agricultural Merit by the French government in 2012 for her contribution to the wine industry.