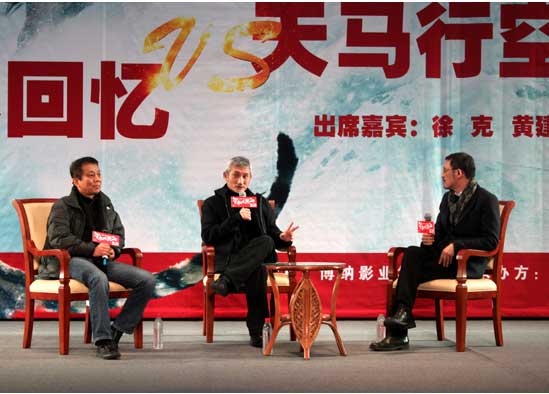 Hong Kong filmmaker Tsui Hark (C), producer Huang Jianxin (L) and host Dr. Ma Ka-fai shared insight into the making of the new 3D action film "The Taking of Tiger Mountain" at Tsinghua University in Beijing on Dec 19, 2014. [Photo/China.org.cn]
Director Tsui Hark and actor Stephen Chow, two of the most famous names in China's film industry, could be uniting for the sequel to Chow's "Journey to the West."
Hong Kong media has reported that the newly emerging giant Alibaba Pictures Group is investing in various big film projects this year, including "Journey to the West 2."
According to the latest reports Alibaba Pictures got Chow and Tsui Hark to collaborate on the sequel to Chow's 2013 blockbuster "Journey to the West: Conquering the Demons."
"Journey to the West 2" looks to be executively produced by Stephen Chow and directed by Tsui Hark.
Filming is rumored to start in August 2015, with a 2017 release date.
Chow, is currently busy working on his latest film "Mermaid."
Related:
Hit reinvigorates Tiger Mountain