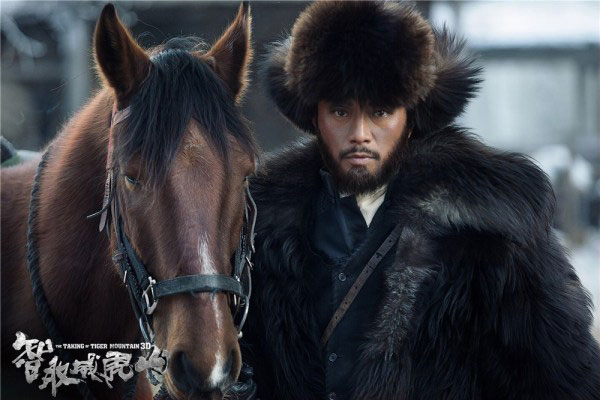 A still shot from Tsui Hark's "The Taking of Tiger Mountain." [File photo]
Tsui Hark's "The Taking of Tiger Mountain" added 109 million yuan ($17.5 million) of box office sales through the week Jan 5-11, bringing the total to 802 million yuan.
The results made the 3D epic film the third Chinese movie screened in 2014 to pass the 800 million yuan mark, only after "Breakup Buddies" and "The Monkey King 3D," which took some 1.2 billion yuan and 1 billion yuan respectively.
The movie is also Tsui Hark's third movie to have passed 500 million yuan, after the "Young Detective Dee: Rise of the Sea Dragon" and "Flying Swords of Dragon Gate 3D."
"Tiger Mountain" ranked third on the weekly box office charts. This week saw "Night at the Museum: Secret of the Tomb" at the top, which added 166 million yuan for a gross of 196 million yuan.
"Miss Granny," a remake of a South Korean comedy with the same title, came in second, taking another 127 million yuan for a total of 128 million yuan.
Wong Kar Wai's "The Grandmaster," its second screening in 3D version, took 31 million yuan. While the animated "One Hundred Thousand Bad Jokes" added 25 million yuan to its gross of 110 million yuan.
Related:
China's influence in global film market expanding: report