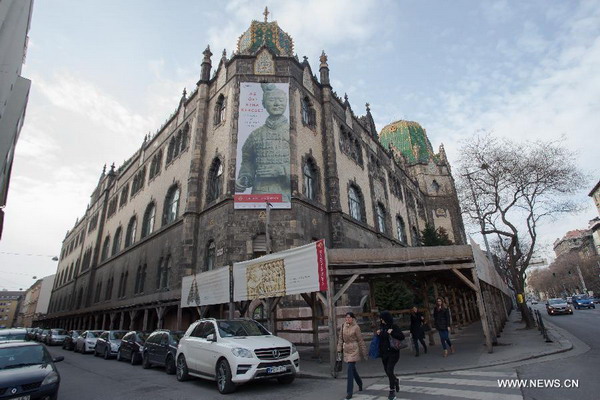 A poster of a terracotta soldier is seen outside the Museum of Applied Arts where an exhibition called "Treasures of Ancient China" opened in Budapest, Hungary, on Feb 6, 2015. [Photo/Xinhua]
"Treasures of Ancient China", a display of over 100 works of art including two life-sized terracotta soldiers from the 3rd century BC, opened in Budapest on Friday.
Hungarian Human Resources Minister Zoltan Balog, China's Ambassador to Hungary Xiao Qian, Deputy Director of exhibit organizer Art Exhibitions China Zhou Ming and other guests attended the opening ceremony at Budapest Museum of Applied Arts.
Balog said the terracotta soldiers, recovered from the grave of the first Chinese emperor, Qin Shi Huang, were sending the message that "not only did we need to protect the present and future, we also had to protect the past, a common past."
"We came from the east, and we are heading westwards but must never forget that we came from the east," he said.