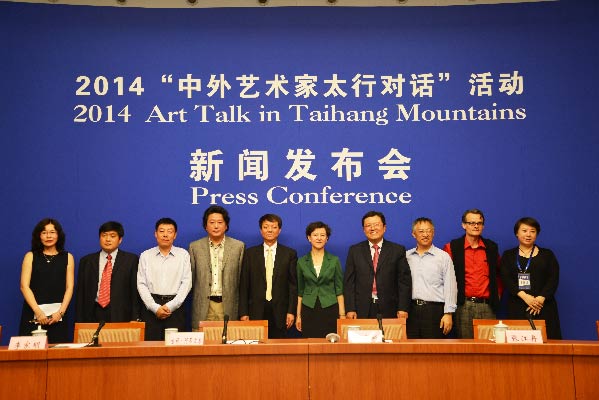 Guests attend a press conference to launch "2014 Art Talk in Taihang Mountains" in Beijing, May 24, 2014. Photos provided to chinadaily.com.cn
More than 30 artists from home and abroad will take part in "2014 Art Talk in Taihang Mountains", scheduled for Linzhou city, Central China's Henan province from June 9 to 19.
Artists from the USA, France, Germany, Russia and the Czech Republic as well as China will create a series of works based on Taihang Canyon, the typical slate, the Red Flag Canal and Yinxu Ruins in Anyang. The event will also include academic forums and exchanges with art teachers and students.
"Art Talk" is in its third year with the two previous events having been staged at Huangshan Mountain in China's Anhui province. Creations of all three sessions will be displayed in the National Academy of Painting and Renmin University of China in August and September.