The image of Wu Zetian (AD 624-705), the only empress in China's 5,000-year history to rule in her own right, recently appeared on a real estate advertisement board in Luoyang, Henan province, attracting numerous passers-by.
On the board, Wu Zetian wears the classical clothes and ornaments of her age, but with modern articles such as earphones, bankcard, motorcycle, sunglasses and sometimes an LV handbag or an iPad.
The modern version of Wu Zetian also delivers funny lines such as "I would like to walk out of Mingtang just because of xx Square". Mingtang was a hall used by Wu Zetian to meet officials and for sacrificial ceremonies.
Wu moved the imperial capital from Xi'an, Shaanxi province, to Luoyang, and renamed Luoyang to Shendu (God's Capital) to be the capital city.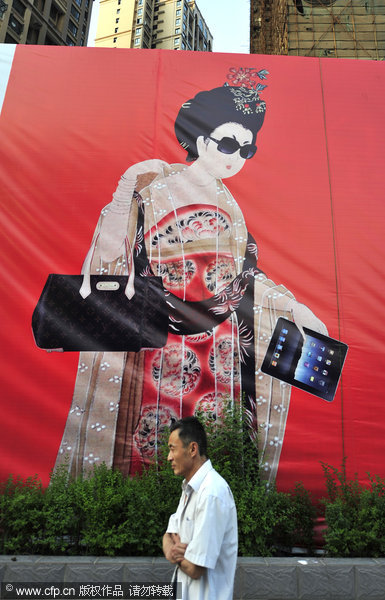 Wu Zetian's image appears on a real estate advertisement board in Luoyang, Henan province, May 24, 2014.[Photo/CFP]