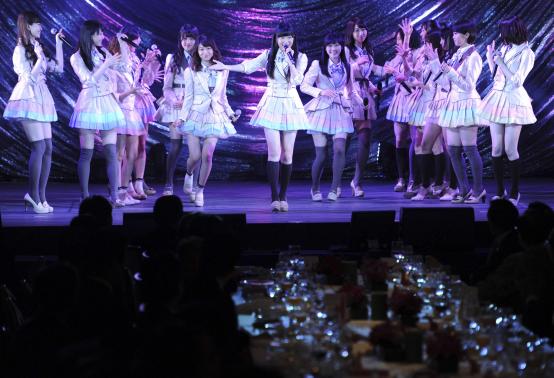 Japanese girls' pop group AKB48, led by Rino Sashihara (C), performs on the stage during a gala dinner of the ASEAN-Japan Commemorative Summit meeting hosted by Japan's Shinzo Abe (not in picture), in Tokyo December 14, 2013 file photo. [Photo/Agencies]
A man wielding a saw slashed and injured two members of Japanese female pop group AKB48, rated by Guinness as the world's biggest such group, at a fan event in Japan, leaving the country stunned at the extremely rare violent crime.
The group, known for its perky routines, was shaking hands with fans at a meet-and-greet function on Sunday, when the man attacked them with a weapon described variously as a 50-cm (20-inch)-long saw or a hatchet, Japanese media said.
"This sort of thing is unimaginable," one fan told Japanese television. "I'm in shock."
Group members Rina Kawaei,19, and Anna Iriyama, 18, received emergency surgery for cut and broken fingers, with Iriyama also suffering cuts to the face, media said.
"The surgery ended successfully and their condition is stable," their manager said. "They should be able to leave hospital tomorrow."
A male staff member received cuts to his hand.
Police arrested a 24-year-old high school dropout for attempted murder after the event, in the northeastern city of Takizawa, was interrupted by screams of "Stop!" and "No!"