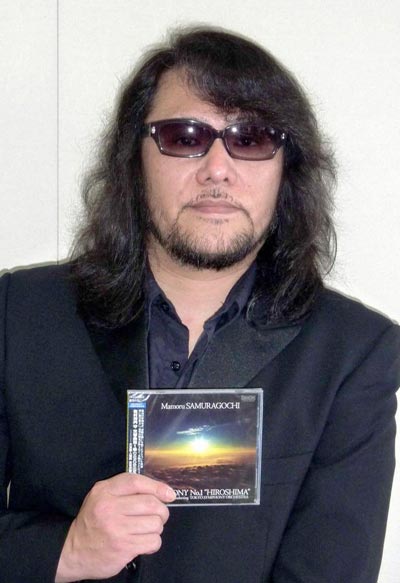 Mamoru Samuragochi, a famous Japanese classical composer who has been called "Japan's Beethoven" and who claims to be deaf, poses with a CD of Symphony No. 1 "Hiroshima" in this Kyodo file photo taken in 2011. Takashi Niigaki, a part-time university professor, has admitted on February 6, 2014 that he has been the ghost writer for nearly two decades for Samuragochi. [Photo/Agencies]
A composer once known as the "Beethoven of Japan" said on Friday that tests had shown he was not legally deaf and apologized to people throughout the country for lying by using a ghost writer for his popular symphonies and other music.
Mamoru Samuragochi, a classical musician who became known as an inspirational genius for composing music despite losing his hearing, bowed deeply before a packed news conference, his firs
t public appearance since the scandal broke last month.
"I have caused a great deal of trouble with my lies for everyone, including those people who bought my CDs and came to my concerts," Samuragochi, 50, said, his trademark flowing hair now trimmed in a typical businessman's cut.
A statement distributed to reporters said hearing tests had shown that while Samuragochi's hearing was impaired, it did not meet the requirements for legal deafness.
"I can hear sounds, but the sounds are twisted," he said. "Hearing conversations is extremely difficult and I still need an interpreter."
German composer Ludwig van Beethoven began suffering hearing loss from about age 30 and withdrew from public performances while continuing to write music. He was almost totally deaf for the last decade of his life.