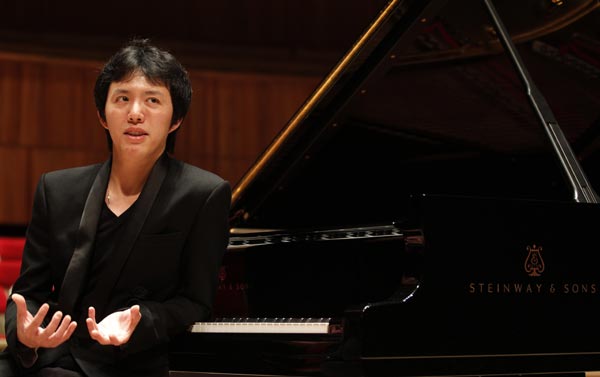 Pianist Li Yundi says playing Beethoven's concerto is a breakthrough for him. Wang Lili / China Daily
Chinese superstar pianist Li Yundi has announced that his new album will be released on Feb 25 to coincide with the first concert on his European tour.
The new album, Emperor I Fantasy, includes Beethoven's Emperor Concerto and Schumann's Fantasie in C. It is the second time he has cooperated with conductor Daniel Harding and the Berlin Philharmonic.
On his European tour Li plans to play music from his 13th album and traditional Chinese music in 25 cities across the region, including stops in St. Petersburg, Warsaw and Prague from February to April. The first concert will be held at the Royal Festival Hall in London on Feb 25.
"The Emperor Concerto of Beethoven is one of my favorite compositions, which not only expresses the unique confidence of Beethoven but is also filled with romanticism," the pianist says.
Known as the "prince of piano" in China, Li says the main idea behind his new album was to attempt to tell people that "everybody has an emperor inside them, and to become the emperor people have to face challenges, make progress and constantly strive to better themselves, so that they can become their own emperor.
"Playing Beethoven's concerto is a breakthrough to me. I hope I can continue to achieve and continually perfect my skills in music to become my own emperor. I hope I can bring more beautiful music to the people in the future."
The pianist entered the world spotlight after he gained first place at the 14th International Chopin Competition in 2000 at the age of 18,making him the youngest and the first Chinese pianist to win the top prize.