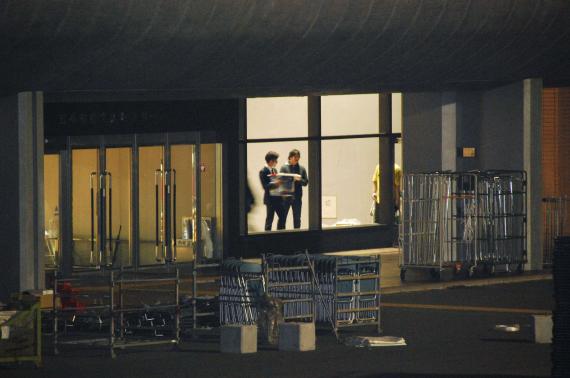 Staff members are seen at a fan event site where members of Japanese girls' pop group AKB48 were stabbed in Takizawa, Iwate prefecture, in this photo taken by Kyodo May 25, 2014. [Photo/Reuters/Kyodo]
There were no bag checks, and fans have said most of the group's events have only cursory checks at best, prompting newspapers to call for tighter security. The incident featured on several newspaper front pages and television shows.
Security checks tend to be light in Japan, which has stiff gun control laws, and violent crime involving weapons is rare.
AKB48, founded in 2005, is known for its high "kawaii," or cuteness, quotient, and all its members are in their teens or early 20s.
Fans vote each year to determine 64 of the most popular girls from a 237-member pool, who then rotate in and out of four main troupes and several affiliated groups, based on their popularity.
The "AKB" in the group's name is a reference to Akihabara, Tokyo's high-tech mecca, where it has a theater. They are also popular overseas, with a sister group based in Jakarta.
Every year fans elect the most popular members of the group, obtaining a ballot by buying the group's latest CD. Some hard-core fans buy hundreds to give their favorite a boost.
A Tokyo concert by the group scheduled for Monday night has been canceled, as have other meet-and-greets, their management company said on its website.