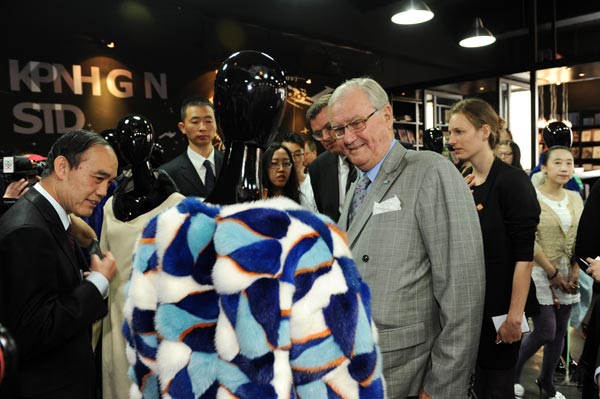 Henrik, Prince Consort of Denmark, meets with Tsinghua students and reviews their graduate works during Danish Queen Margrethe II's recent visit to China. Provided to China Daily
Yang Chen has studied fur design for two years at the Tsinghua Kopenhagen Studio, where she learns from Danish experts and uses Danish fur.
Her graduate work, a jacket strung with blue pieces of mink, won the top prize at the graduate runway show. She was rewarded with a trip to Denmark, where she spent a week taking pointers from the top fur designers in the world. "I want to learn their skills and more importantly their innovative spirit," Yang says.
Designers have been a major force in making Denmark the center of the global fur industry. And now, with help from the country, the same thing is happening at Tsinghua Kopenhagen Studio.
During Danish Queen Margrethe II's recent visit to China, Henrik, Prince Consort of Denmark, met with Tsinghua students, reviewed their graduate works and received a gift designed by the students.
The students' graduate works have one ingredien
t in common: mink from Kopenhagen Fur, a leading provider and the largest fur auction house in the world.
"Every time I see the graduate work, I'm surprised by their design concept and handicraft. This is the future of our industry. These are the products that customers will buy," says Cui Yiyun, general manager of the company's China office.