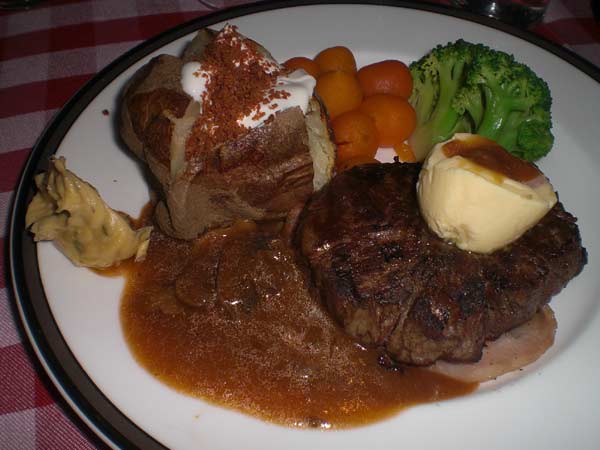 Fillet de Louis with champignon sauce is a signature dish at Louis' Steak House in Hong Kong. [Photo by Donna Mah / For China Daily]
After living in Hong Kong for about two decades, I realized that I had been saying that I wanted to check out Louis' Steak House for many of those years.
It's located in the Malaysia Building on Gloucester Road, so every time you need to travel from Central eastward or from the east of Hong Kong Island to Central, you will more than likely pass this first floor restaurant. It's been there "forever", I was told.
Being around for so long is a sign that the food and the service are likely to be good.
Louis' is an old-school Hong Kong steakhouse. On the menu it says "since 1974" and the decor says pretty much the same thing. The menu is long: I counted 12 salads listed and 17 desserts. You'll also find dishes with words like "a la king" and "stroganoff" in them.
The tables are covered with red-checked tablecloths and the ceiling light fixtures are wooden ships' wheels. The restaurant has a large dining area and though the decor is dated, I think it added fun to the dining experience.
The service is attentive and very efficient. I don't think we saw any staff member on the dining floor who was under 40, though. Once our order was taken, we were brought a bread basket and butter and, soon after, soup. You have a choice of a cream soup or borsch, commonly referred to as "red soup".