Different styles of Zongzi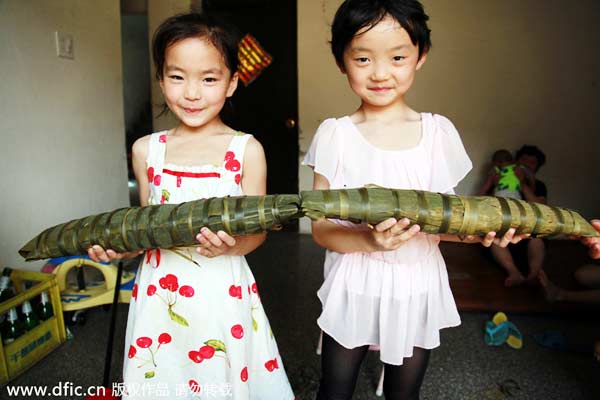 The types of Zongzi, glutinous rice wrapped in reed leaves, are as varied as the many regional cuisines, with different shapes and fillings, although they are almost always made of sticky or glutinous rice. [Photo/IC]
Almost all Chinese festivals are linked to foods, and many have stories behind them. The origin of zongzi, rice dumplings wrapped in leaves, is most often linked to Qu Yuan.
He was a poet and a patriot who lived during the turbulent Warring States Period (475-221 BC). When the kingdom of Qin occupied his home, the kingdom of Chu, Qu threw himself into the Miluo River in protest.
It was said that the people of Chu dropped rice balls into the river to stop fish and shrimp from eating his body.
Later, a fisherman said he dreamed that Qu told him dragons had been eating most of the rice balls, so the people wrapped the rice balls with chinaberry leaves, and tied them up with colorful threads. They would row in the river and throw in the dumplings on the fifth day of the fifth lunar month, the day Qu died.
The types of zongzi eaten in China are as varied as the many regional cuisines, with different shapes and fillings, although they are almost always made of sticky or glutinous rice.
Related: Treats fit for a dragon