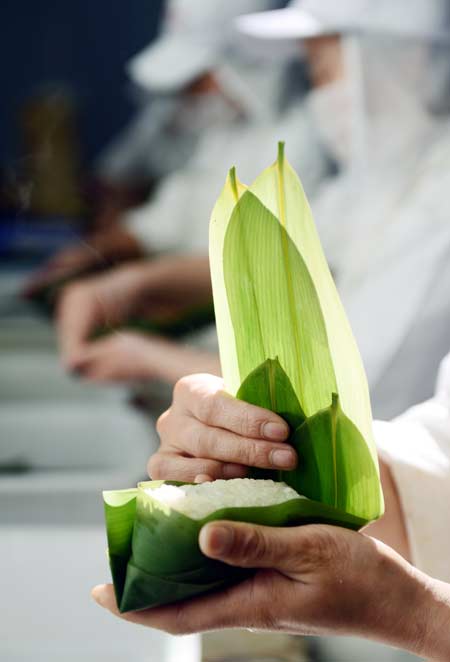 Chefs at Din Tai Fung in Beijing wrap glutinous rice and stuffings with reed leaves to make zongzi. [Photo provided to China Daily]
Traditional sticky rice dumplings have the place of honor at tables during the Dragon Boat Festival. Ye Jun shares a few nibbles with some passionate makers of zongzi.
One advantage of being in Beijing is that you can taste zongzi, the glutinous rice dumpling that's traditional for the upcoming Dragon Boat Festival, in the styles of both northern and southern China. No matter the style, the best-tasting are still those that are handmade and traditional.
This year's festival date is June 2, and Beijinger Han Ping is likely to get busy two days ahead. She will visit the grocer to buy everything needed: glutinous rice and candied red jujube as stuffing, reed leaves for wrapping, and thread to tie them made from the common herb pratia.
The 56-year-old gourmet and TV host will then be ready with dumplings for her friends.
"It is time-consuming work," she says.
It takes her about 70 minutes to prepare more than 70 rice dumplings. After that she boils them to the seething point, and then simmers them for seven hours so they are ready the next morning.
Why boil them so long? "That way, the fragrance of the reed leaf and the aroma of the jujube can get into the rice," Han explains.
Han plans to send the zongzi to friends before evening, when they taste best.