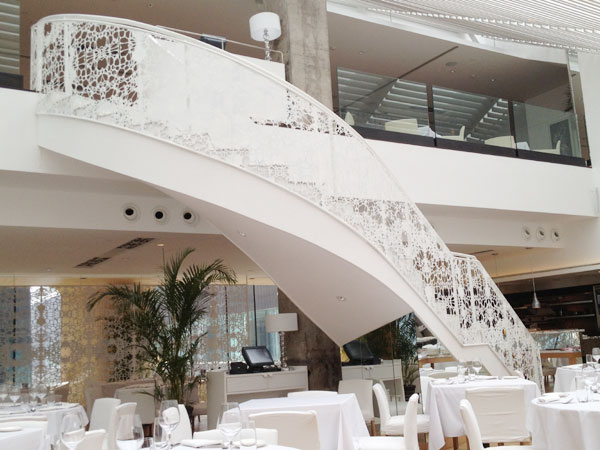 The staircase is painted in white, presenting rich Mediterranean flavor. Photos by Antony Otera / China Daily
As an Australian of southern Italian heritage, I am a gourmand caught between two worlds - cursed with a particularly fussy palate and a penchant for marrying diametrically opposed cuisines.
I'm the kind of guy who's happy to attend a traditional Aussie barbecue only to insist on smearing his sausages with marinara sauce. Some may call this fusion. I call it plain confusion.
Consequently, acclimating to the Chinese diet in Beijing has not been without its challenges. After my first seven months of dining on Asian fare and with only the occasional Mediterranean treat to remind me of my ethnic roots, I was suffering withdrawal symptoms for a taste of fine Italian cuisine.
I found the solution at the north end of Sanlitun's Taikoo Li entertainment area: lunch at the Italian restaurant Isola. It specializes in authentic regional Italian cuisine, including homemade pastas, stone-baked pizzas and an impressive choice of oven-baked fish, other seafood and roasted meats.
As I enter the airy, predominantly white eatery, I'm directed to a table near a wall that doubles as a huge wine rack - the ends of an assortment of bottles stick out from holes in the partition, like the engorged spines of an spiny anteater. On display are specially selected wines from Italy - including an array of my favorite, prosecco, and various other wines offered by the glass.
I peruse the menu, which includes such entrees as mixed salad with balsamic vinegar and truffle-infused oil, and Italian buffalo mozzarella cheese with mint jelly and balsamic reduction. Yum. The extensive list of mains includes two types of risotto, and no less than seven pasta dishes, including hand-twisted pasta with Parma ham, black-truffle broad beans and Parmesan cheese. Fish and meat dishes are also in great abundance, with the monkfish medallions in Sicilian capers, olives and tomato broth piquing my curiosity.