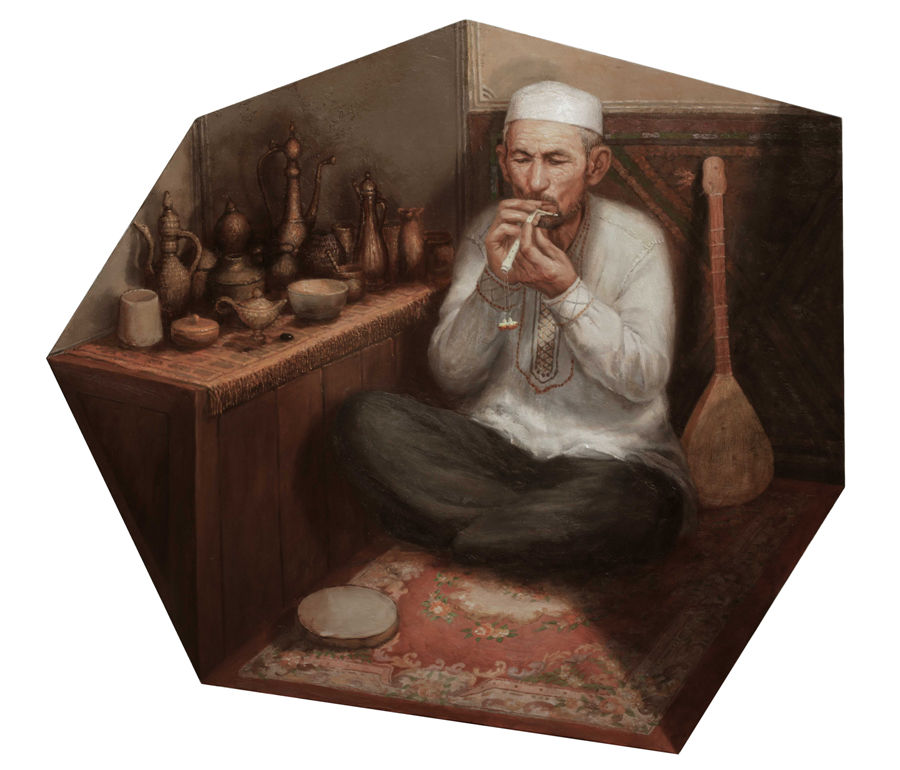 78 x51 x60 x63 x47 x46.5 x59cm, oil on canvas, 2013.9-2014.3, by Zhang Xianfei. Photos provided to China Daily
A dozen middle-aged and young artists spent three months last year traveling through the Xinjiang Uygur autonomous region. The trip of discoveries and cultural shocks are portrayed in their paintings that are displayed at New Impressions of Xinjiang, an exhibition at the National Art Museum of China.
"Chinese contemporary artists mostly live and work in major cities such as Beijing and Shanghai. Living in similar circumstances with the same lifestyles means they have almost exhausted their sources of inspiration, and many encounter a bottleneck," said the exhibition's curator Peng Feng.
Peng, a professor with the fine art college of Peking University, has been active in curating contemporary art exhibitions, for example, Pervasion of Chinese Flavors, at the Chinese Pavilion of the 2011 Venice Biennale.
He said many artists in the exhibition had done thorough research on Xinjiang before their journey, but the marvelous landscapes and hardships en route far exceeded their expectations, intriguing their imaginations and enhancing their creativity.
The exhibition runs until June 4 and the works will also be shown at the 2014 Xinjiang Biennial Exhibition of Contemporary Art that is to open on June 25.