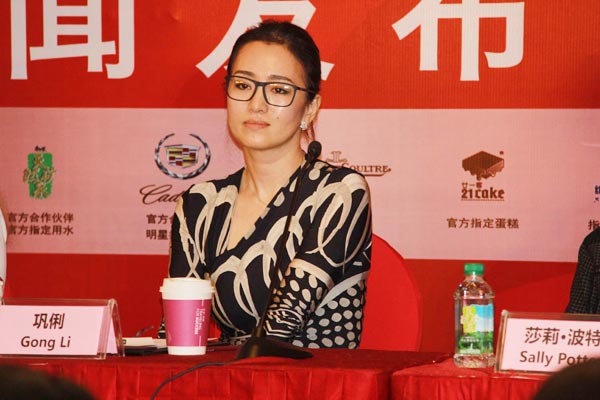 Gong Li attends a press conference for Golden Goblet Award jury in Shanghai on June 15th, 2014. [Photo/CRIENGLISH.com]
Questions about Huang Haibo's new
film
were not answered at the press conference for Golden Goblet Award jury at the ongoing Shanghai International Film Festival in Shanghai on June 15th.
Famous Chinese actress Gong Li, who serves as the first female President of this year's Shanghai International Film Festival, met the press in Shanghai on June 15th, 2014.
Six other jury members joined her at the meeting. Gong was about to answer questions brought up by a reporter asking if she as a Chinese would pay more attention to the only Chinese film competing for Golden Goblet Award at this year's SIFF, but a staff talked to host of the meeting secretly and then the conference was announced to be finished.
No other information about the film could be found from "Guide for Journalists" given by committee of SIFF either.
Fifteen films compete for the Award this year and the final result will be announced on June 22nd.
"Uncle Victory" ("Shengli") is directed by Chinese film director Zhang Meng. It stars actor Huang Haibo who was detained for 15 days after being caught with a prostitute at a hotel in Beijing on May 16, 2014. Huang is still being held at a penitentiary for a six-month re-education course.
Zhang's last film "The Piano in a Factory" (Gang De Qin) starred Chinese actor Wang Qianyuan who won Best Actor award at the 23rd Tokyo International Film Festival for the film in 2010.
Related:
Celebrity 'sorry' for sex scandal