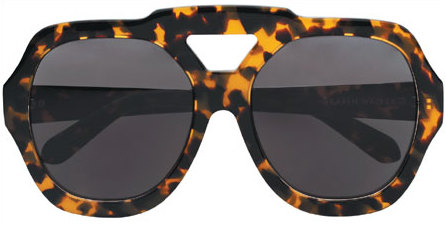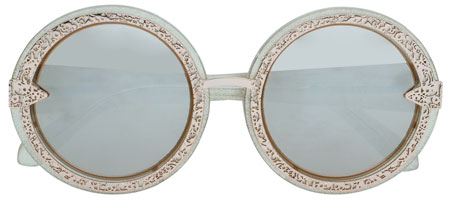 The designer renews the classics in her latest collection with bigger frames and intense colors. Photos provided to China Daily
Designer Karen Walker is thrilled to note the city's hunger for style. Sun Yuanqing reports.
Karen Walker did not know how popular her sunglasses were in China until she arrived in Beijing about two months ago. During a short car ride from her hotel to one of the boutique stores that sell her products, she spotted four people wearing them.
"I was looking out of the window the whole time. When I saw the first one, it was like 'wow', and then 'oh, another one', and then another one. It was really exciting," the New Zealand designer says on the sidelines of a promotional event for her spring/summer 2014 collection in the Coterie store, China's exclusive distributor of Karen Walker eyewear.
The collection debuted at New York Fashion Week earlier this year.
Walker says she is thrilled to see how "cool" Beijingers wear her fashion products in many interesting ways.
"Every city has its style. Here it seems that it's turned up a little bit more. Los Angeles, for instance, is more pulled back. Here, fashion is more intensified. I think our glasses fit really well in it," she says.