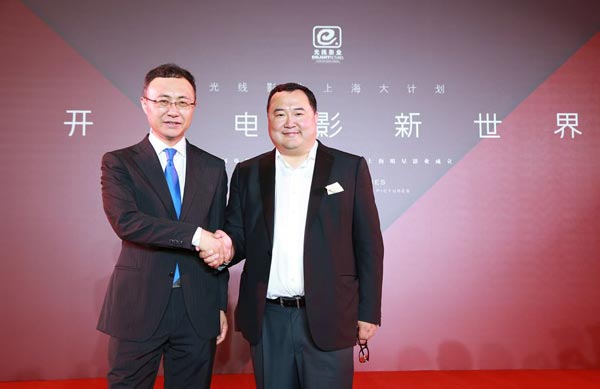 Enlight Media and Seven Stars announced ambitious plans for a film studio and theme park. Photo provided to China Daily
Leading domestic film company Enlight Media and film mogul Bruno Wu's Seven Stars Entertainment announced on June 16 an ambitious plan that includes a Chinese version of Universal Studios and 10 international film projects.
The two companies will build a film theme park in Shanghai to be named China Movie World, said Enlight Chairman Wang Changtian. The park will not only be a recreational venue, but also a film studio.
To be located in the Minhang district of Shanghai, the design features five themes including fairytales, martial arts and fantasy. "We will build the theme park based on the films we plan to shoot," Wang said.
"When the sets are ready for filming, they are also ready for tourists to be involved in interactive games. When the filming finishes, they will open to tourists as attractions."
Construction of the park will start in 2015 and is expected to be completed in five years, Wang said. The companies also plan to shoot 10 films in the near future.
According to Wu, Justin Lin, the director of four Fast and Furious films, will direct at least three of the movies. The first will be a 3D remake of the 1983 Chinese classic The Shaolin Temple, which was the big screen debut of Jet Li.
Lin will also direct a romance movie and a science-fiction action film. Wu and Wang also announced they would jointly set up Shanghai Movie Star Pictures, a film production company based in Shanghai, considered the center of modern Chinese cinema.
Wu said the new company has already signed contracts with a number of international filmmakers, including Charles Roven, producer of The Dark Knight Rises and Man of Steel, and Pierre-Ange Le Pogam, producer of The Transporter series.