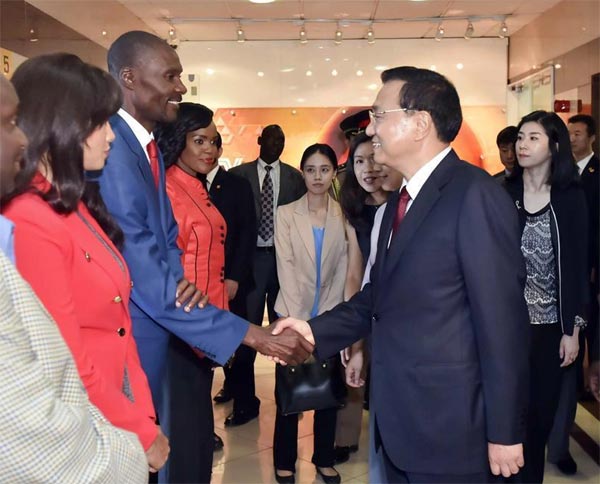 Chinese Premier Li Keqiang meets with media staff at a television center in Nairobi, Kenya on May 11, 2014. [Photo/Xinhua]
BEIJING -- China will step up media cooperation with Africa as dozens of media ministers from the continent met in Beijing on Monday.
The western media dominates world while the voices of developing countries go unheard, said Cai Fuchao, director of the State General Administration of Press, Publication, Radio, Film and Television (SAPPRFT), at the second Forum on China-Africa Media Cooperation.
"As long as media in China and Africa increase cooperation and support with each other, there will be a huge impact on the world pattern of public opinion," Cai said.
More than 260 delegates from 42 African countries attended the forum, including government ministers and leaders of radio and television organizations.
The SAPPRFT said 19 cooperation agreements will be signed during the forum between China and African countries, including authorizing Chinese TV programs with media agencies in Mali and Sudan, among others. China has helped Africans build a digital broadcasting infrastructure and trained personnel for local media agencies.
In a relatively weak position with regard to public opinion around the globe, China and African countries are often misrepresented, said Vice Foreign Minister Zhang Ming.
As a major partner in the digital migration undertaking in Tanzania, China's private Startimes constructed digital platform and infrastructure for digital terrestrial broadcasting.
"These early undertakings enabled Tanzania to be the first African country south of the Sahara to switch off the analogue transmitters. Tanzania has since then played host to a number of African countries for benchmarking their digital migration process," said Tanzanian Minister of Information, Youth, Culture and Sports Fenella Mukangara.