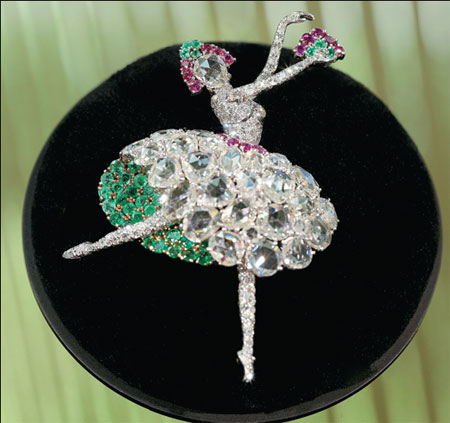 The Spanish Dancer brooch from 1941 is a signature piece from French label Van Cleef&Arpels. Provided to China Daily
In the 1960s, Russian-born choreographer George Balanchine created one of his most acclaimed works Jewels inspired by the precious stones of French label Van Cleef & Arpels.
Gemstone ballerinas have since acquired iconic status for the label, and almost 50 years later, the charm still rules.
Van Cleef & Arpels joined hands with the French embassy in Beijing last month to bring Reflections, a modern encounter of ballets with precious stones, as part for the Festival Croisements 2014 in China. This year also marks the 50th anniversary of diplomatic relations between China and France.
Reflections, a three-act ballet by Benjamin Millepied, founding director of the L.A. Dance Project and incoming director of Paris Opera Ballet, debuted in Paris in 2013. It talks of Millepied's vision of precious stones in a modern light. Millepied is the French choreographer who starred in the Hollywood production Black Swan in 2010.