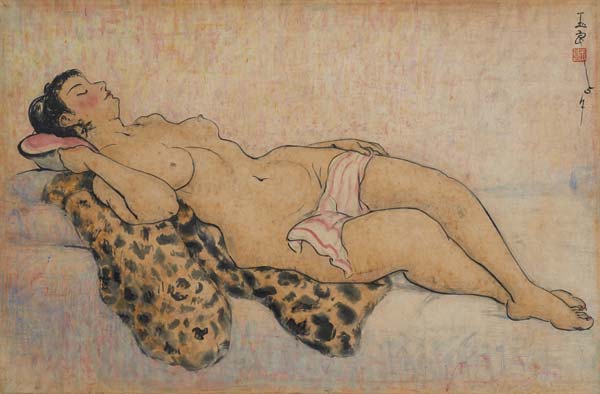 An oil painting of a nude beauty by Pan Yuliang is on show at de Sarthe Gallery. Photos Provided to China Daily
This year's Art Basel Hong Kong included a weeklong extravaganza of creative activities, some of which stir debate about city living. Rebecca Lo looks back at some of the highlights.
By all accounts, the second edition of Art Basel Hong Kong was a resounding triumph. It has been five years since Art Basel acquired a 60 percent stake in the Art Hong Kong fair and made it the third on its worldwide calendar of contemporary art events. This year, with UBS as its lead partner, the Hong Kong Convention and Exhibition Center saw more than 65,000 visitors gaze at the art from 245 galleries from 39 countries over the four-day session. That's a lot of champagne.
Along with the show within, Art Basel inspired a public program such as a three-day film section with 49 films by 41 artists screened at Agnes b. Cinema, including films by Hong Kong's Kwan Sheung Chi and Christopher Doyle.
In addition, the audio-visual light presentation Alpha Pulse customized for the facade of the 490-meter-high ICC by German artist Carsten Nicolai ensured everyone within view of Victoria Harbor caught a glimpse of the city's biggest art installation.
"This is the first time we've included film," says Magnus Renfrew, Art Basel's director for Asia and the founder of Art Hong Kong.
"We commissioned the Berlin artist Carsten Nicolai to create an app with an audio component to go with his light display at ICC. Alpha Pulse is an emotional response to the different frequencies of light and sound."
One of the highlights on the sidelines of the fair was a debate organized by the Hong Kong office of Intelligence2 entitled Asia Should House its Poor Before it Houses its Art: The Funding of Museums is Best Left to Private Patrons.