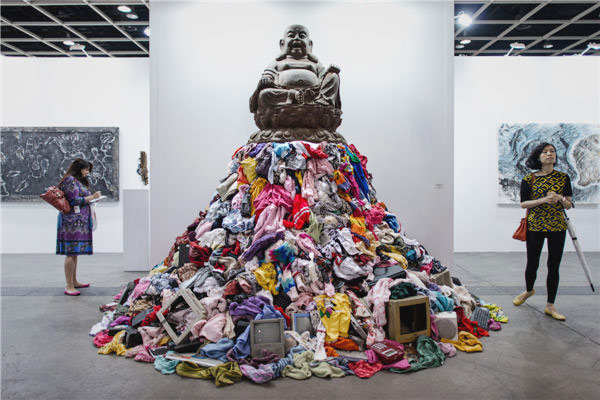 An artwork entitled rem(a)inder by Michelangelo Psitoletto is on display at Art Basel in Hong Kong on May 14.The fair involves more than 240 galleries from 39 countries and territories showcasing paintings, sculptures, drawings, photographs and videos. Philippe Lopez / Agence France-Presse
Billionaires beckon for $10,000 passports and works by emerging painters at Art Basel Hong Kong. Frederik Balfour reports.
Inside Art Basel Hong Kong at the city's convention center there's a booth where guests can apply for instant citizenship to the Republic of Jing Bang.
For $10,000 you can obtain a passport, an aluminum "Citizenship Box" briefcase and national flag from Jing Bang, an ephemeral state created for the fair by Chinese artist Sun Xun, whose installation is a satirical comment on art, commerce and nationhood.
The art world elite, including billionaire Indonesian collector Budi Tek, New World Group scion Adrian Cheng and Canyon Capital Advisors co-chairman Mitchell Julis, won't need any fictional travel documents to converge on Hong Kong, where more than $1 billion worth of art is for sale, according to fair insurer AXA ART.
Wealthy collectors can snap up a $10,000 painting by emerging Chinese artist Yuan Yuan or pay $75,500 for a fish in formaldehyde work by Damien Hirst.