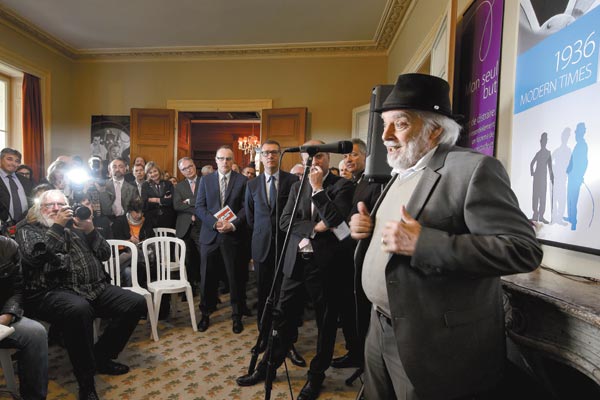 Michael Chaplin, one of the eight children of Charlie Chaplin, delivers a speech at the Manoir de Ban during the laying of the first brick of the Chaplin Museum earlier this month. Agence France-Presse
Memories of Charlie Chaplin will live on above the shores of Lake Geneva, where new generations will get a chance to be introduced to one of the silver screen's greatest comic geniuses.
Chaplin spent his last 25 years on his 14-hectare estate along the "Swiss Riviera", where he could surround himself with family and walk into town or drive in the countryside without drawing unwanted attention. He died at the 18th-century Swiss mansion on Christmas Day in 1977.
Now, after 14 years of planning, Chaplin's family, investors and supporters are ready to convert the run-down Manoir de Ban and its property into a museum complex.
Chaplin co-founded United Artists in 1919 and helped define the silent era with films such as City Lights in 1931 and Modern Times in 1936.He came to Switzerland when he was in his 60s, fleeing accusations of being a communist sympathizer during the McCarthy-era witch hunt in the United States. In his peaceful new setting, he raised eight children from his last marriage, wrote an autobiography, made films, composed music and entertained other artists and celebrities.
Three of his children-Michael, Eugene and Victoria - and their business partners in the nearly $69 million project say they are on track to open the museum early in 2016.
The mansion, with its verdant lawn and serene view of the lake and the Alps, is stripped bare and will be refurbished as it was when Chaplin lived there. It has gardens, service buildings and a pool, and plans call for a large new building with recreated sets from Chaplin's movies.
Chaplin and his last wife, Oona Chaplin, the daughter of the great tragic playwright Eugene O'Neill, lived most of their married life at the Swiss mansion. She also died there, at age 66, in 1991.
A Luxembourg investment firm, Genii Capital, purchased the property in 2008 with the aim of creating the museum.
"He is still very well-known and beloved around the world," says Yves Durand, the museum's director." His soul, his spirit, is still here...so people will meet him, people will encounter him, people will hear his voice, will see his movies, will hear his music."