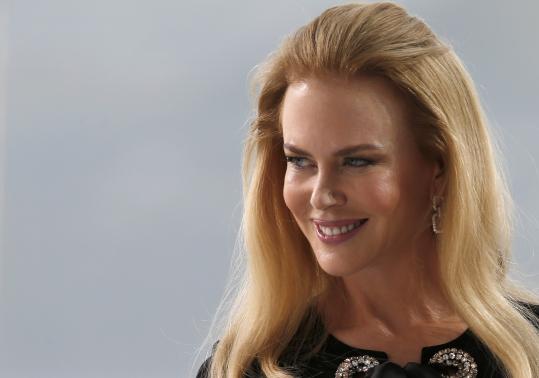 Actress Nicole Kidman is seen at the Grand Journal de Canal+ television studio on the Croisette on the eve of the opening of the 67th Cannes Film Festival in Cannes May 13, 2014. [Photo/Agencies]
Film fans already are standing outside security cordons with no idea which stars may show up, and security guards are keeping a constant vigil for potential jewel thieves as the 67th Cannes Film Festival prepares to open on Wednesday.
With huge yachts bobbing in the Mediterranean and luxury boutiques along the famous La Croisette boulevard making finishing touches to their displays, the 12-day pageant that is the international film world's answer to Hollywood's Oscars kicks off with the world premiere of "Grace of Monaco".
"I think the selection has so many talents now that it's like (being) a kid in a candy store," Danish director Nicolas Winding Refn said as he arrived on Tuesday.
Winding Refn is one of nine judges on a majority female jury headed by New Zealand director Jane Campion, the only woman ever to win the festival's top Palme d'Or prize.
There are 18 films in competition for the Palme d'Or, which will be handed out along with other prizes at the end of the festival on May 24.
It is a huge draw for the industry and public alike, with an estimated 127,000 visitors expected, plus 30,000 accredited professionals, 4,000 journalists and 700 technicians, according to a periodical distributed by the festival.
Benedicte Bourdon, 30, visiting for the first time with her parents from the northwestern French city of Cherbourg, said she had no idea which stars would show up on the other side of a security cordon where she was standing outside a hotel, but being there was a thrill.
"It's great fun to be here," Bourdon said. "Films can make you feel emotion or laugh, and some make you reflect on life."
Last year some of those who attended the festival were less than welcome, having made off with jewels worth several million dollars.
The security presence this year is conspicuous, with dark-jacketed men standing outside or immediately inside fancy boutiques, but it is no more than usual, a security guard said.
"It was already at the maximum," said the guard who did not want to give his name for what he said were "security reasons".
The opening film stars Nicole Kidman as the Hollywood actress Grace Kelly who became the Princess of Monaco when she married Prince Rainier, and died following a car crash in 1982 in the hills of the principality, not far from Cannes.