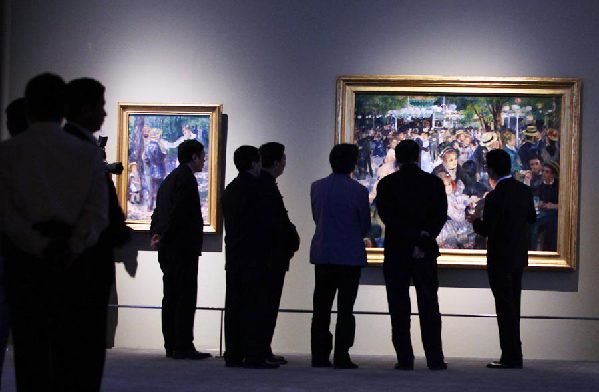 Visitor view photos of Pierre-Auguste Renoir's paintings, The Swing (L) and Dance at Le Moulin de la Galette (R) at the National Museum of China in Bejing April 11, 2014. To commemorate the 50th anniversary of the establishment of diplomatic relations between China and France, ten artistic masterpieces from France will go on display at the National Museum of China for the first time. [Photo by Jiang Dong / China Daily]
Chinese President Xi Jinping and French counterpart Francois Hollande have written a preface for a French painting exhibition being held at Beijing's National Museum of China, according to an official press release on Tuesday.
The exhibition, which showcases 10 masterpieces drawn from five French museums and runs from April 11 to June 15, marks the 50th anniversary of diplomatic relations between China and France.
The five French museums include the Louvre, the Pompidou Centre, the Palace of Versailles, the Orsay Museum and the Picasso Museum.
Xi said in the preface that China and France enjoy profound histories, and that the two civilizations' learnings from each other have contributed to the China-France friendship.
He said the exchanges between the two countries' museums played an important role in bilateral cultural cooperation.
The exhibition will help museum-goers appreciate the power of art and the two peoples' exploration of human spirit, according to the Chinese president.
"Cultural exchanges are an important driving force for the progress of human civilization as well as world peace and development," he wrote, wishing the show every success.
In his preface, Hollande said the paintings will guide more Chinese audiences to understand France and the relations between both countries.
Pablo Picasso's "Reading the Letter," Pierre-Auguste Renoir's "Dance at Le moulin de la Galette" and "The Swing" and seven others are on display in China for the first time.
China and France established diplomatic relations in 1964, making France the first major Western power to recognize the People's Republic of China.
The two countries are scheduled to host more than 300 events to mark the 50th anniversary of their ties, ranging from art exhibitions, performances, round-table mayoral meetings, through sporting and academic competitions between high school students.