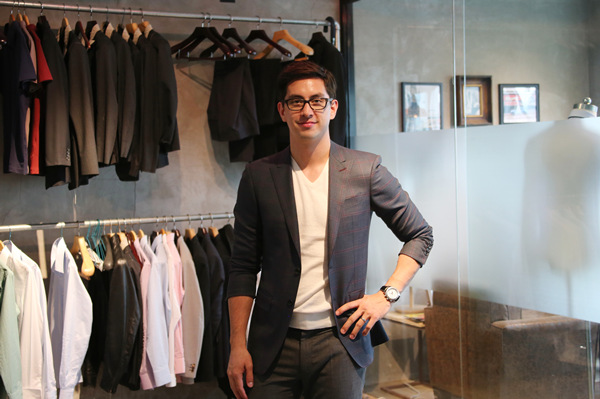 Principle M's cofounder Justin Kwan says his design studio helps Chinese men choose the clothing that works for them. [Photo by Wang Jing/China Daily]
Over the past nine months, Wan Li has spent at least 20,000 yuan ($3,200) on new threads. He got some gray and blue suits, pink and purple shirts, pocket squares, as well as brown leather shoes.
In an office where business casual is the dress code, Wan says that his new wardrobe has drawn "wows" from his fellow lawyers. His girlfriend, who for three years had been badgering him about dressing smarter, should be delighted.
So what brought about the fashion upgrade?
Last summer, the 27-year-old civil aviation lawyer met with new British clients and was impressed by the men's sharp suits and ties. "That was the moment I realized that's how a real businessman or a real lawyer should be dressed," Wan, in a light gray suit, says sitting in his Beijing office.
"I realized that your clothes can make you look more confident and smarter," he says. "You never get a second chance to make a first impression."
He is now infusing more color into his business attire, moving away from the staid black suits and black leather shoes that define the look of many Chinese executives. For nights on the town, Wan picked up his first bow tie.
In recent years, Chinese men have been paying more attention to their appearance - and this has translated into sale signs at the cash register.
In 2012, the sales of mens-wear in China reached 485.3 billion yuan, accounting for 38 percent of the country's clothing market, up 15 percentage points from 2009, according to data from China Market Research Group.
The Chinese trend is a result of rising disposable incomes, people having more access to fashion-related information and greater opportunities for travel overseas, industry analysts say.
Besides actors and musicians, sports stars have also become style icons that Chinese men want to emulate, says Yvonne Luk, China chief editor for trend forecasting service WGSN.
The past year has seen fashion brands either opening men's flagship stores or expanding their men's collections in China, Luk says. They include the first Chinese flagship of Mango's sub-brand H.E. by Mango and the first Michael Kors store with a dedicated men's accessories area. (Both stores are located at the Jing An Kerry Center in Shanghai.)