Fresh as can be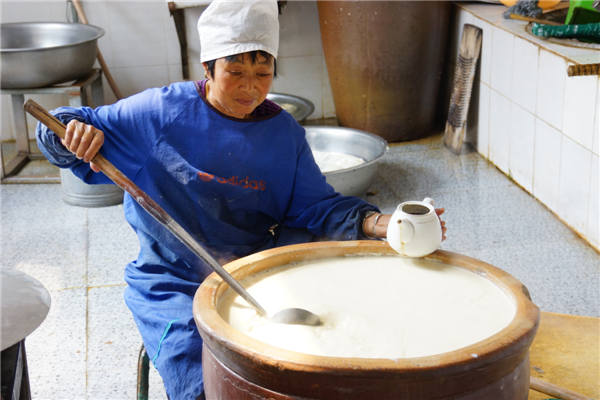 A villager pours brine into soybean juice to make bean curd. Photos by Ye Jun / China Daily
A day trip to an organic farm outside Beijing can restore your faith in the power of food, Ye Jun discovers.
Visiting an organic farm always makes me feel my food can be better. Especially so as I listened to Feng Bing, a technician with Noah Organic Farm, introduce the farm's way to grow organic vegetables.
Two friends and I were visiting the farm in northern Beijing's Ping'gu district. Feng first led us to an "optimal natural enemy" workshop, where they hatch and raise ladybugs, which will be put into greenhouses to kill pests.
That is only one of the natural ways they use to fend off pests at the farm. They also hang sticky colored cards to trap destructive bugs. Furthermore, they grow corn and beans at the side of the greenhouses, which are more attractive to pests, to lure them away from precious cherry tomatoes and cucumbers.
They also set up beehives in all the greenhouses: One can see bees humming their way around the blossoms of the tomato and cucumber plants.
Feng, an agriculture major back in university, says the cherry tomatoes they grow have clearly visible seeds in them, while many varieties available on the market do not. Only when the tomato flowers are pollinated will they have seeds. But many cherry tomatoes are not grown in such optimal conditions. The farm uses natural fertilizers for the cherry tomatoes, which makes the way to some of the greenhouses quite stinky. But it is a clear indication of their natural process.