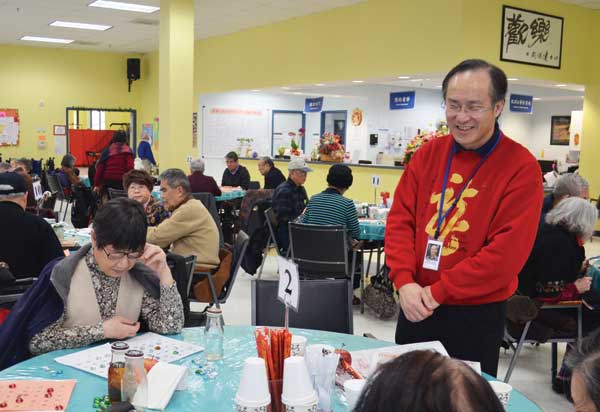 Stan Tsai watches seniors play a game in his Adult Day Healthcare Center inside the Chinese Culture and Community Service Center. Cai Chunying / China Daily
Stan Tsai has dedicated himself to serving Chinese-American elders in the greater Washington area, writes Cai Chunying in Washington.
For the past 15 years, Stan Tsai has started his Chinese New Year celebration mostly the same way, preparing for shows and exhibitions in the Lakeforest Mall, a suburban Washington shopping center.
The organization he has been associated with since 1996, the Chinese Culture and Community Service Center, has an agreement with the 150-store mall to celebrate Chinese New Year with two weeks of vibrant cultural activities.
Each year the program includes not only youth showcasing traditional Chinese dance or displaying martial arts skills, but also seniors on a catwalk or dancing to disco. Most of the volunteers are also seniors. The group that Tsai has dedicated himself to service for almost 20 years.
"I follow the old saying in Chinese - honor elders as we do our own aged parents," says Tsai, 57, who was born and grew up in Taiwan before coming to the United States in 1983.
After his mother passed away in 1994, Tsai decided to devote most of his spare time to social work. The first organization he chose was the Chinese American Retiree Enterprise Inc's Senior Center, serving Chinese-American elders in the greater Washington area. It was the only type of its kind at the time.
Elderly Chinese in the US often have no extensive family or social network they can rely on. Many came to the US alone as first generation or immigrated with their adult children, leaving their culture and relatives behind and facing an aging life that is often lonely. Many also encounter language barriers when it comes to obtaining senior care provided by mainstream facilities.
Two years later, Tsai joined the Chinese Culture and Community Service Center - then a small organization with sporadic cultural activities for the local Chinese community.
Recognizing the need for senior care among Chinese-Americans, Tsai has over the years helped to transform the center into one of the largest organizations in the Chinese community, providing full-fledged community services with specialization in senior care. He became its president in 1998 and chairman in 2006 and 2012.
Tsai's own professional experience has served his volunteer work well. He earned a master's degree in computer science from the New York Institute of Technology in 1986. He had worked mainly for US military hospitals, developing software to gather statistics from various medical facilities, including overseas bases, which then were used for resource allocation and budgetary decision making.
Tsai says that his bachelor's degree in business administration from the Chinese Culture University in Taiwan has also contributed to his managerial success at CCACC.
Calling itself a "grassroots" organization, the CCACC has a 2,323-square-meter facility in Gaithersburg, Maryland and more than 2,000 members and 60 full-time employees.