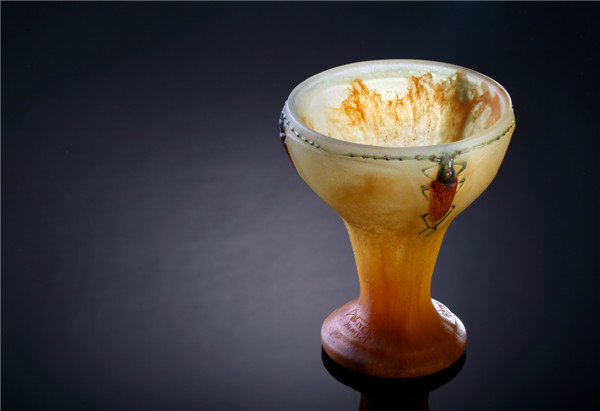 An antique glass piece by Francois Decorchemont. Photo provided to China Daily
Glass is the perfect medium to illustrate the flow of time, French artist Antoine Leperlier believes.
The artist's works are featured at Liuli China Museum alongside earlier generations of French glass art masters.
This exhibition is among the events celebrating the 50th anniversary of Sino-French relations. It opened to the public on April 16 with a live Chinese music performance, featuring strings and the flute.
On show for the coming five months are 15 glass sculptures by Leperlier and eight antique glass pieces by early 20th-century French artists, such as Emile Galle and Francois Decorchemont, pioneers of the pate-de-verre glass casting technique.
Liuli China Museum is a private establishment by actress-turned-artist Loretta Yang and her husband Chang Yi. The couple from Taiwan turned to glass art in the 1990s, learning pate-de-verre, a mold-based glass-casting technique.
Glass has been accepted as an artistic medium for less than a century, Leperlier said at the opening. It was previously regarded as an industrial material. But artists kept experimenting with it.