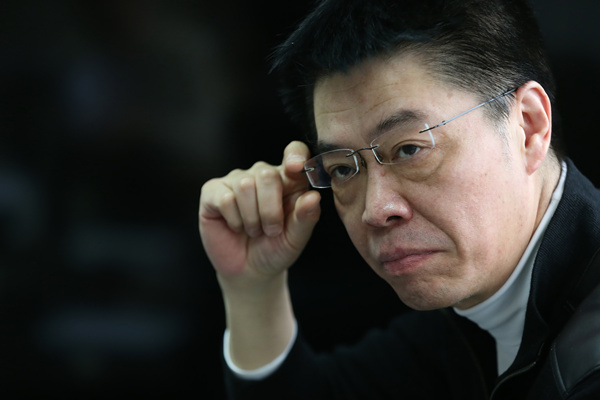 Film producer Zhang Zhao knows well the role of the Internet in today's film marketing and defines himself as an advocate and practitioner of the industry revolution. [Photo by Jiang Dong/China Daily]
A producer says non-traditional media is the best way to reach the younger generation in the era of openness and sharing. Liu Wei reports.
'We are an Internet company, so we focus on providing service, not products," says Zhang Zhao, CEO of Le Vision Pictures, the filmmaking arm of LeTV Informational Technology Company.
The US-trained film producer says marketing a film involves finding out who the audience is and providing what it wants.
Zhang founded the studio in 2011, and one of his biggest successes has been Tiny Times. It was released in 2013 and is based on novels by Guo Jingming, a 31-year-old writer worshipped by tens of millions of teenage readers.
The film, with two installments, earned 800 million yuan ($129 million) at the box office, but critics called it shallow and materialistic. The film featured beautiful young ladies chasing unrealistic dreams about men and luxury bags. Younger audiences, however, hailed it for speaking frankly about what people really want.
For Zhang, the film's success was not an accident. It was a result of his precise marketing strategy. "Today's mainstream filmgoers are much younger than before," he says. "I define them as the aborigines of the Internet. They live there."
Openness and sharing are the two most important features of the young generations, and Zhang, 52, knows them well. He used social media including Sina Weibo and Renren to give away tickets to pre-screenings with director/writer Guo weeks before the film's theatrical release.
"Traditional marketing of a film is like, 'I have this film and I tell you it is good'. But in the Internet age, how we do it at Le Vision is, 'I know what you like, so I will share it with you'."
Zhang has a team of active users of social media, and they collect data and information from it. Their average age is 27, and he says they will be the game changers in the booming Chinese film industry.
Le Vision's next grand project is the emotional drama Coming Home by Zhang Yimou, director of the Beijing Olympics opening ceremony and blockbusters such as Hero and House of Flying Daggers.
Coming Home, scheduled for release on May 16, follows a middle-aged writer's return to his family after his suffering during the "cultural revolution" (1966-76). It is Zhang Yimou's first film since he left New Pictures to join Le Vision in 2013.
According to Zhang Zhao, the two have a shared understanding of the Internet's role in today's film marketing. "The film's appeal to middle-aged audiences is obvious, but we want the younger generation to be intrigued, too," Zhang Zhao says.