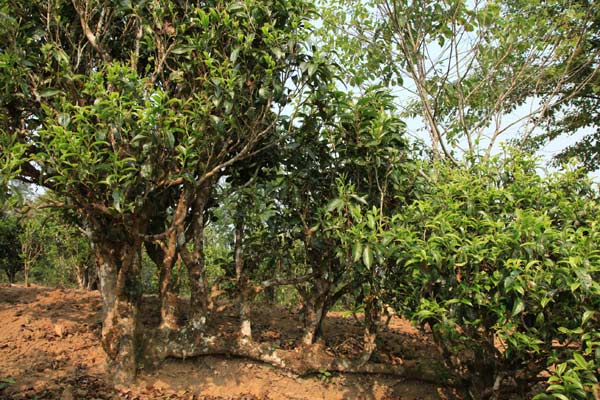 Wild ancient tea trees in Yunnan province. [Photo by Zhang Jing / For China Daily]
The cultivation of pu'er has brought sudden wealth to tea growers in Yunnan, especially those with wild trees that are centuries old. Guo Anfei in Kunming and Fan Zhen in Beijing sip the celebrated brew and report.
With spring coming to an end, Iceland has again become a hot word in the tea industry. Not because of the Nordic island in Europe, but because of the skyrocketing prices of wild tea leaves grown in the homonymic village in China's southern Yunnan province.
At the first Shuangjiang Mengku (Iceland) Tea Fair held in April, the premium spring Iceland tea from Shuangjiang Mengku Tea Co fetched 120,000 yuan ($19,500) per kilogram at auction, beating its 100,000-yuan record in 2012. The remaining five companies commanded a little over 20,000 yuan per kg for their teas.
The price hike has brought certain prosperity, and a bit of risk, to the small village that sits isolated 2,000 meters above sea level along the once-bustling Ancient Tea-Horse Road.
"Tea provides our main income," Luo Wenjiang, a local tea farmer, says. "The price of the wild one didn't go up until 2007, and it was always a mild increase before last year."
His family has more than 400 wild tea trees, including 14 that are around 500 years old. The sudden markup has greatly improved his life. With 200,000 yuan in annual income, he has already built a new house and bought a new car.
Another villager, A Wang, says he started four years ago to rent out his 10 ancient trees for only 10,000 yuan each year. The wild tea was only worth 80 yuan per kg back then.
"I didn't expect the price would shoot up so high," he says. "I can't wait until the lease ends in October so that I can take my trees back."
He also owns a 0.4-hectare parcel of land with industrial tea. The cultivated tea trees, trimmed waist-high, provide 20,000 yuan annually.
"That doesn't compare to what a single ancient tea tree can earn me," he says.