The annual Cheung Chau Bun Festival was held on the island of Cheung Chau in Hong Kong, South China, May 6, 2014.
Every April on the Chinese lunar calendar, a strange bun festival takes place at Cheung Chau, a tiny, dumbbell-shaped island located about 12 kilometers south of Hong Kong.
The four-day celebration falls on the fifth to the ninth days of the fourth lunar month, and what Time.com deemed one of the world's 'Top 10 Quirky Local Festivals'.
It all started with a plague that devastated Cheung Chau in the late Qing Dynasty (1644–1911). The islanders built an altar in front of the Pak Tai Temple and petitioned the god Pak Tai to drive off the evil spirits that were besieging the island, while parading statues of deities through the narrow lanes of their village. The plague ended after the performance of the Taoist rituals and 100 years later the rituals are still performed at a festival that is now listed as an intangible cultural heritage.
The weeklong event includes Taoist ceremonies and music, a parade, lion dances, drum beating and an exciting bun scrambling competition involving a tower of buns.
The event has become a major attraction for thousands of visitors from Hong Kong and elsewhere. In 2012, some 70,000 visitors joined the island's population of 30,000 during the festival.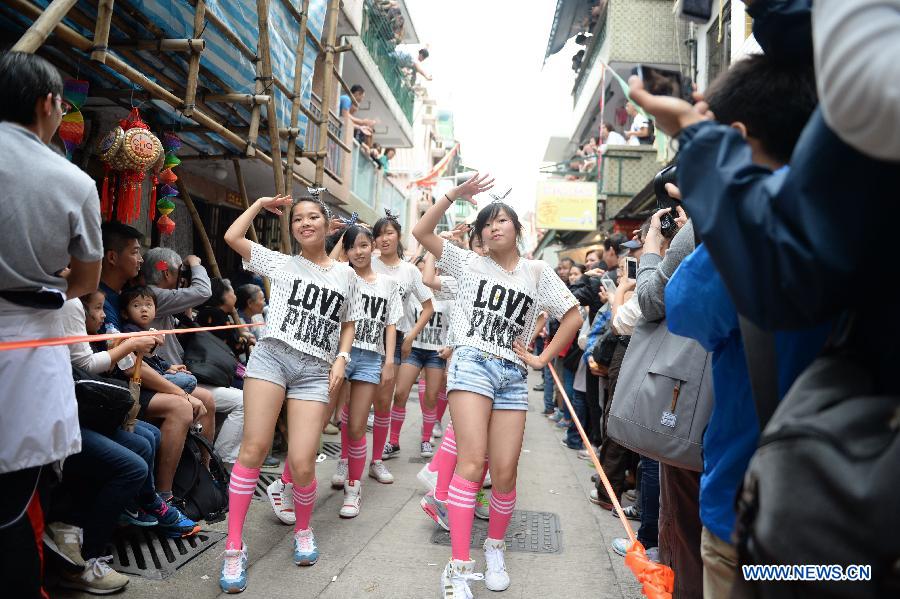 Performers walk in the parade crowd during the Cheung Chau Bun Festival on the island of Cheung Chau in Hong Kong, South China, May 6, 2014. The annual Cheung Chau Bun Festival was held here on Tuesday to placate the hungry ghosts of old pirates. Legend has it that buns bring good luck to the island's fisherman protecting them from the spirits of pirates that once lurked in the region. [Photo/Xinhua]