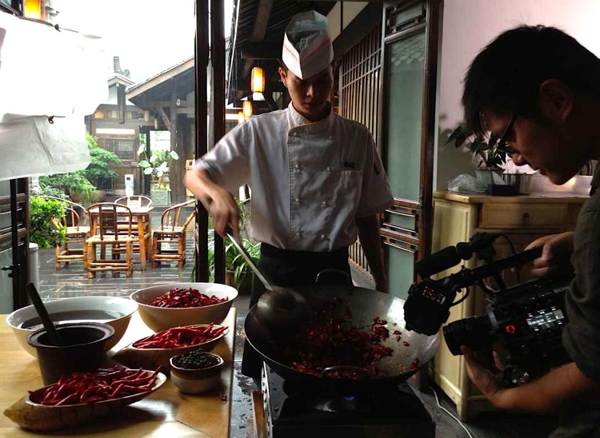 The photo shows what's been simmering behind the scenes in the second season of the widely acclaimed documentary TV series "A bite of China". [Photo/cntv.cn]
The tantalizing second season of "A Bite of China" is finally back on the screen.
Audiences have been waiting for the mouth-watering program for two years. Thus, it is no surprise the show has gained top ratings and rave reviews online.
"It is not only about food, its about people, as well. It can be quite touching at times."
"If you were the one traveling or working far from home, after you watch the documentary, you would miss home a lot, rather than merely think about the food presented on the show."
"Gourmet food is not the only thing shown in the series. The show reveals philosophies about life--the relationships between people and between human beings and the Mother Nature."
To differentiate itself to other food documentaries, "A Bite of China 2" has blended in a variety of filming and editing techniques. Each episode uses diverse methods to tell a story; some are like Hollywood family films, while other have the elements of road movies or even gangster movies, according to the chief director.
But of course, they all vividly portray the plethora of food China has to offer.
"Our cameramen capture a sense of spirituality to the food they shoot. They used many techniques, like a shallow depth of field or a macro shot, all of which make the food look mouth-watering. In fact, when we were editing the films, we were always hungry."
Related: Food sells out on the Internet
Food documentary resonates emotionally