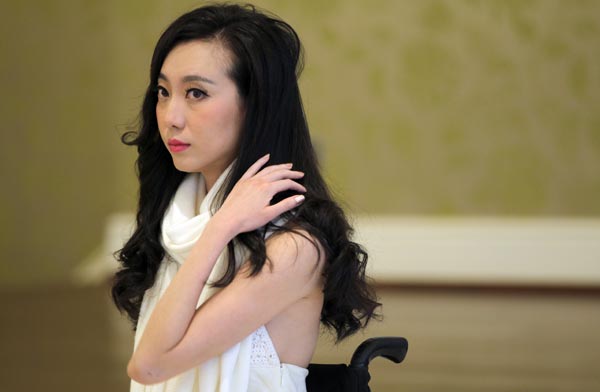 Liu Yan anticipates her upcoming performance in The Red Thread as a rebirth of her life onstage. Zou Hong / China Daily
Liu Yan thought she would never dance again.
Considered one of China's leading classical dancers at the peak of a golden career, she severely injured her vertebrae during a rehearsal for the opening ceremony of the 2008 Beijing Olympic Games. That left her paralyzed below the waist, and she had to bid farewell to the stage and adjust to life on wheelchair.
However, after teaming up with French choreographer Kilina Cremona, the 32-year-old Liu will take the stage again in The Red Thread (Le Fil Rouge).
The musical and choreographic work, featuring Liu, Chinese dancer Chen Maoyuan and French dancer Sophie Jegou, will premiere in Beijing in May during the 2014 Croisements Festival, to celebrate the 50th anniversary of diplomatic relations between China and France.
The three dancers recently gave a preview of the production in Beijing. Liu, in a white gown, sat in her wheelchair, waving her arms and gesturing with her hands.