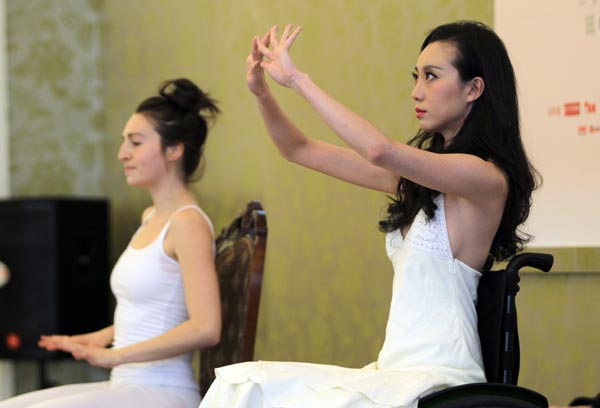 Liu Yan anticipates her upcoming performance in The Red Thread as a rebirth of her life onstage. Zou Hong / China Daily
After she withdrew from the limelight, Liu established her Liu Yan Arts Special Fund in 2010 to help poverty-stricken students, orphans and migrant workers' children through arts education. The same year, she also pursued a doctorate degree in dance theory at Beijing Dance Academy. Her newly published book, Dance of Hands, talks about her research on the hand gestures of classical Chinese dance.
"It's really fate for me to dance in The Red Thread. Though I can only use my hands, arms and eyes to communicate with the audience, I believe that it will be a fresh experience," Liu says.
Performers from Shanghai Conservatory of Music and Treffort Percussion Ensembles from France will play music for the show. Founded in 1979 by musician-composer Alain Goudard, Treffort Percussion Ensembles sees a musical adventure featuring both healthy and disabled artists.
"In the West, there is a story about Jacob wrestling with the angel. In China, there is an old saying about a legendary Phoenix that rises from the ashes. Both of the stories share the theme of rebirth and new life after suffering struggle and all the negative things. All the artists in The Red Thread have such a triumph of the human spirit," says Lucie Brosset-Jolinon, founder of Le Pavillon Rouge des Arts, a Lyon-based organization promoting cultural exchange programs between China and France.
Brosset-Jolinon acts as a bridge between Liu, the choreographer and the percussion ensemble.
The Red Thread will tour France in September.