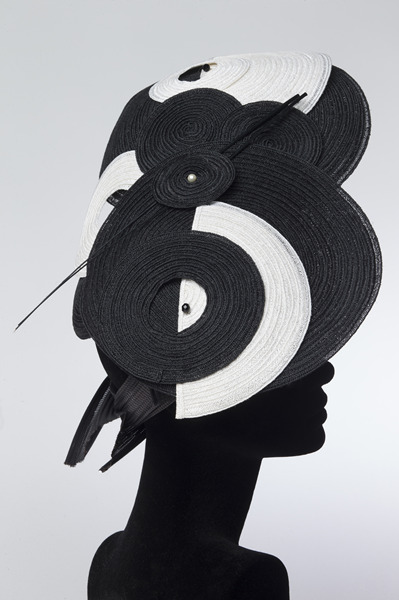 Hats in the exhibition, including this 2012 Delaune by Celine Robert, pay tribute to French painter Sonia Delaunay. Photo provided to China Daily
The little black dress has been an essential part of every fashionable woman's wardrobe for over a century. Rebecca Lo takes a closer look at the accessories that transform the basic staple into a vehicle for seduction.
Most women have the fashion equivalent of a security blanket in their closet. It's that item that they reach for time and again when they are less than secure about their appearance and need to self soothe with something that will instantly make them feel beautiful. Often, that singular piece is a little black dress.
Gabrielle "Coco" Chanel, a woman known for being clad in black, made the little black dress a fundamental part of fashion in the 1920s. Audrey Hepburn became a style icon by jazzing it up with ropes of pearls and an oversized cigarette holder in the 1961 film adaptation of Truman Capote's novella Breakfast at Tiffany's. Despite its infinite number of variations, the little black dress retains a mysterious allure that continues to inspire designers today.
An exhibition curated by Anne Camilli explores the accessories that best accentuate its wearer.
Essential Accessories of the Little Black Dress is a monthlong show that runs as part of Le French May. Camilli, who originally trained to be an interpreter and translator, worked in the world of French luxury including with fragrance, beauty, wine and spirits for most of her career.
"Those years were essential to my career," she says. "I learned about French brands, their history, core values and know-how, which form the base for France's luxury industry." She established the creation and communication agency Anne Camilli & Cie in 2006 and organized her first exhibition in Hong Kong for Le French May in 2010.
In the latest exhibition, Camilli has selected a number of singular dresses by recognizable names in the industry. Givenchy's 1996 asymmetrical cocktail dress is a simple, sleeveless sheath that still looks fresh and contemporary nearly 20 years later. Paule Ka's 2014 feminine cocktail dress is dominated by a large front bow and its hourglass silhouette. Those pieces are contrasted against a mid-1920s flapper dress weighing two kilograms, due to its intricate top-to-bottom jet beading on black patterned silk chiffon.
Accessories showcased include Chantal Thomass' mid-1980s sexy black lace tights, Francois Pinet's 1925 leather and silk low heel pumps, Yves Saint Laurent's 2000s mid-thigh high-fantasy boots featuring embroidered silk and feathers, and Gripoix' black glass earrings and bracelets formerly owned by legendary French actress Sarah Bernhardt dating back to the 1900s.