Xuzhou lightens up on classic cuisine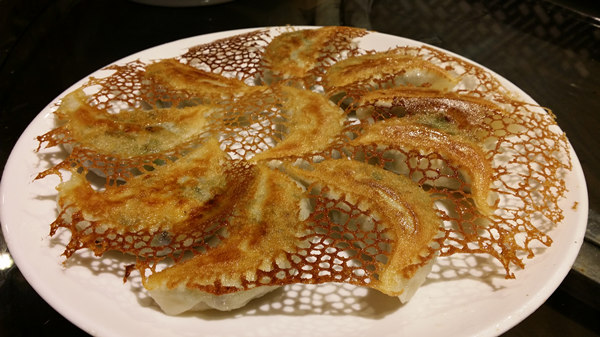 Seared pork or vegetable buns are served in restaurants for breakfast. [Photo by Ye Jun/China Daily]
The ancient city of Xuzhou, my hometown in East China's Jiangsu province, has a long culinary tradition. After nearly 20 years away, I recently went there with my wife for a vacation, and we checked out the food scene right away.
We chose two dishes from a wide display: A plate of steamed vegetables with a flour paste coating, and a big bowl of assorted vegetables and meats in soup. The latter is a traditional dish to celebrate festivals, brimming with pork meatballs, dried pork skin, dried bean curd skin, sea cucumber and vegetables.
Xuzhou has many locally grown vegetables and wild edible herbs. Jicai, or shepherd's purse, is best used for stuffing in jiaozi (boiled dumpling). Xiancai, the edible amaranth, is very tender when plain fried. Xuzhou's taigan, a crunchy green-stemmed vegetable, is a distinctive local specialty often made into cold starters.
But when the steamed vegetables in flour arrived, we almost couldn't recognize the dish: It was fully clad with red chili. Because my wife barely eats spicy and our kid is too young for it, that dish was almost wasted. The tempting soup, meanwhile, turned out to be full of spicy black pepper.
We requested another helping of steamed vegetables without the spices. To our amusement, the waitress turned back and shouted to the kitchen: "Put nothing in the dish!" Chili and black pepper were clearly important here now.
Xuzhou food once had the reputation of being more salty than spicy. Many dishes give the impression of countryside style, such as braised fish with corn cakes in an iron wok. But many restaurants have opted for lighter foods.
That's the case at Lu's Family Restaurant, or Paomatang, named for a signature seafood soup made with abalone, sea cucumber, deer sinew and fragrant rice. It is slow-boiled for five to six hours in a clay jar to make the ingredients soft and the soup delicious.
The countryside-style restaurant has an open kitchen, and one can have ingredients prepared fresh, such as shrimp boiled in clear broth and a soft, delectable small catfish.
We also liked the deep-fried pumpkin flowers in flour paste, delicious and cooked rather crispy.
The private room we sat in was named for another specialty of Xuzhou: pancakes, usually eaten with fillings such as fried potato slices, wrapped to make a roll.