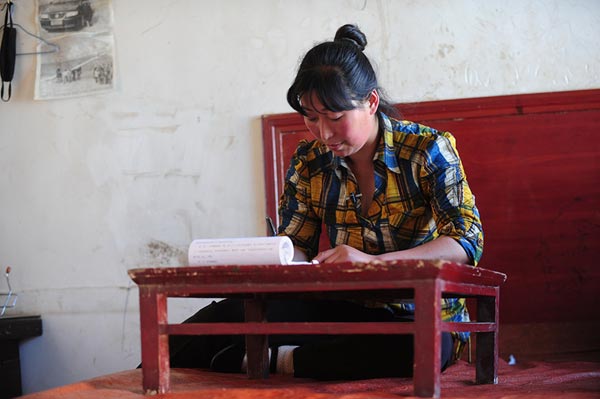 Liu Yunmei wrote the novel 30 Years Is Not a Dream based on her own experience of her arranged marriage. Photo provided to China Daily
Liu Yunxia owes a debt almost equal to her family's annual income. Yet she is not worried because, having just published her first novel, she feels she is one step closer to realizing her dream of making a TV drama series.
Liu, 38, a farmer in a remote mountainous village in Northwest China's Gansu province, borrowed 30,000 yuan ($4,870) from a local entrepreneur to publish her novel, 30 Years Is Not a Dream, which tells the story of a rural arranged marriage and is based on her own experiences.
With only a primary school education, Liu is known in her hometown and online for her determination to write dramas and produce a TV series.
Liu loved writing as a child and dreamed of becoming a doctor. But her parents promised her hand in marriage to a man when she was only 9 years old. She was forced to wed at 19.
The couple's early married life was not happy. They were poor, struggled to communicate and her husband was a heavy gambler. But after five years of marriage, Liu began to fall in love with her husband, Chen Yanhai, who took care of her in the hospital when she fell ill.
In 2008, Liu was inspired to film a TV drama after she saw a documentary on TV shot by a woman about rural children left behind by their parents, who moved to cities to become migrant workers.
"The dream of making a TV drama is to enrich our spiritual lives and to change our own lives," says Liu. "I feel my life will have no meaning if I just do farm work. I want to do something significant to change our expectations and have a higher standard of living."