Patty Hearst in the news again as her dog wins award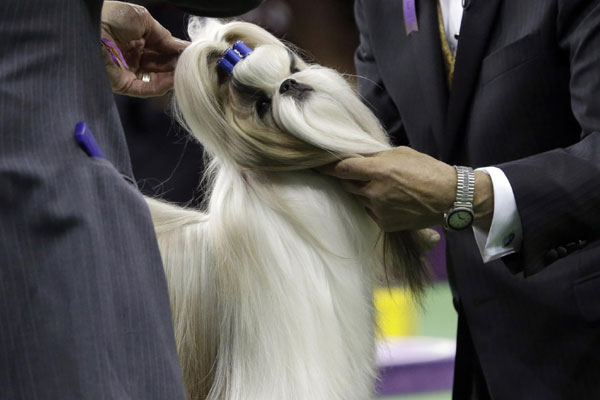 Rocket, a shih tzu co-owned by famed heiress Patty Hearst, is inspected by the judge at the toy group competition during the Westminster Kennel Club dog show in New York. [Photo/Agencies]
Famed and infamous heiress Patty Hearst was back in the news on Monday after a dog she co-owns won its group at the Westminster Kennel Club show.
A shih tzu called Rocket was picked as the top toy dog at Madison Square Garden.
Hearst is the granddaughter of William Randolph Hearst and gained great notoriety in 1974 when she was kidnapped by a radical group, the Symbionese Liberation Army. She was seen holding a semi-automatic rifle while robbing a California bank, and later spent almost two years in prison.
Her sentence was commuted by President Jimmy Carter. President Bill Clinton gave her a full pardon.
"People move on," Hearst said, smiling at Rocket. "I guess people somehow imagine you don't evolve in your life. I have grown daughters and granddaughters and other things that normal people have."
She also has appeared in films including Cry-Baby and Serial Mom. She's done television roles and charitable work.
Hearst has been involved in the dog show world for more than 10 years. She said many are surprised to find out she's moved on to play with pooches.
Hearst, who turns 61 on Friday, is one of Rocket's three co-owners. She's mostly worked with French bulldogs and one of them won a ribbon earlier in the day.
Hearst's dog will be one of seven in the championship ring on Tuesday night when the best in show is chosen. That will cause her to do some shifting - she didn't originally have tickets for the finals.
Even though Hearst loves dogs, her two daughters own cats. "I don't know what I did wrong," she said.