Fur market takes flight in China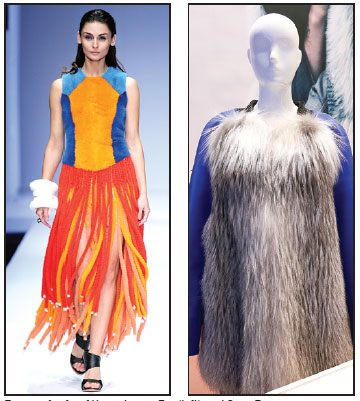 Fur products of Kopenhagen Fur (left) and Saga Furs. Photos Provided To China Daily
As the Siberian wind blows, fur might be one of the most stylish ways to fend off the winter chills.
Searching the streets of Beijing, from the fur market in Yabaolu to trendy Sanlitun, both genuine and faux fur are seen everywhere, highlighting on coats, vests, hats and handbags.
Bold and big are the key words for fur in the fashion world this season, says Ditte Hejberg Sorknaes, vice-president of marketing at Kopenhagen Fur, the largest fur auction house in the world.
Fur types with long hairs like fox and finn raccoon have been the preference of fast fashion. The material has been dyed into many striking colors, and emerald green is probably most popular for the fashionistas, she adds.
Known as a luxurious material, fur is now used by more people in diversified ways.
"The most important trend is the democratization of fur. Whereas fur used to be only a luxury item for the rich, it has become something for everyone," she says.
Fur is no longer worn as a way to show off - it can be worn inside and be invisible, says Pertti Fallenius, CEO of Saga Furs, a leading fur auction house based in Finland. He was promoting the corporate social responsibility report 2013 in Beijing in December.
Traditionally a manufacturing base for fur, China is now rapidly growing into a consumers' market. Fallenius says that two-thirds of the company's fur is sold to China, making it the largest consumer market for fur in the world.
"The last 10 years has seen continuous growth of the Chinese consuming market," he says.
While Europeans prefer subtle colors like brown and beige, Chinese have their own preferences.
"China loves color, especially the young people. They are very colorful. It is nice to see bright (and) different colors," he says.
"The trend is really mix and match. Fur is not only the classic mink coat anymore. The fashion is more about integrating different materials in one garment. Mix mink and fox. It's almost three-dimensional in that respect."
Related:
China's influence on Western fashion, art on display in NY