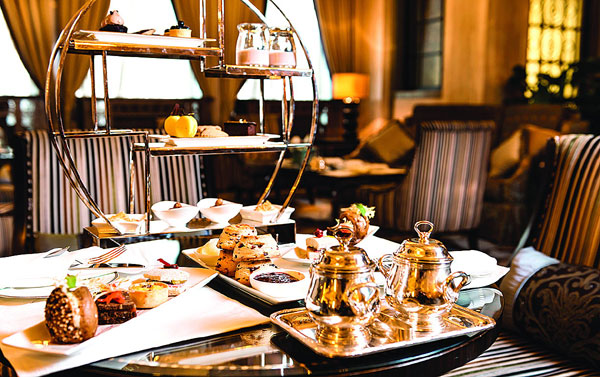 Tea Jazz at Shanghai's Jasmine Lounge Fairmont Peace Hotel features a beautiful array of small cakes and puddings.[Photo provided to China Daily]
Shanghai's historic Peace Hotel hosts a gracious afternoon tradition that evokes the city's 1930s heyday. Belle Taylor checks out the scene in the right shoes. Belle Taylor
The room is an art-deco wonder. The musicians are world-class. And my dance partner is a professional who glides over the floor as if he were waltzing on clouds.
Too bad my own elegance isn't quite up to scratch with the surroundings - I keep tripping over my own two feet.
Luckily, my dance partner is experienced enough to keep me upright and moving.
I am at the Fairmont Peace Hotel's Afternoon Tea Dance in the elegant Jasmine Lounge. Once a staple of the social calendar in 1930s Shanghai, the dance was resurrected just under two years ago and has proved popular with tourists, dance lovers and the handful of elderly Shanghai residents who remember the city when it was known as the "Paris of the East".
"This hotel is part of Shanghai. It's part of the history," enthuses Belle Bai, from the hotel's marketing department, after I gratefully extricate myself from my dance partner.
We are sitting in the lounge adjacent to the dance floor sipping the hotel's special Irish tea, a rich blend with hints of chocolate and cigars. An afternoon tray is next to us with a beautiful array of small cakes, pudding and macaroons.
The band strikes up another tune and the professional dancers move through the crowd and pull willing partners to their feet, leading them to the floor. The band, a revolving door of world-class musicians, plays a mix of jazz standards and classic Shanghai songs from the 1910s, '20s and '30s.