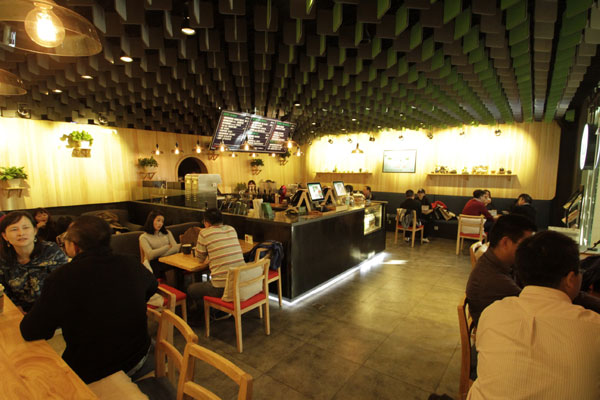 Creating additive-free drinks at TNTea was a 'horribly long process', says co-founder Liu Xinghe. [Photo provided to China Daily]
The first time I walked into TNTea I was unsure exactly what I had stumbled across.
The contemporary decor with comfy and inviting sofas screamed out that it could be another of Beijing's hipster hangout coffee houses.
But drinks called the Tellini, Mojitea and the Goji Mary jumped out at me from the menu board above the central bar. For a moment I wondered if I would be swapping my daily caffeine hit for something a little stronger.
Given that I was still nursing a sore head from a few too many the night before, I was relieved when I spotted a slogan "keep calm and drink tea" on the back of the waitress' T-shirt. As a brew-loving Brit, I knew I was in safe hands.
TNTea opened in late July and has taken the bold step of modernizing and revitalizing China's time-honored tradition of tea drinking and culture.
Preserving the traditional essence of tea and bringing it into the modern world for the next generation to enjoy was the most important thing when TNTea was set up, according to Liu Xinghe, one of the company's four founders.
"A lot of time in China when you say Western you mean modern. When you say Chinese you mean ancient. Why can't Chinese be modern?" he asks. TNTea's drinks are made exclusively from Chinese tea leaves and are completely free of additives and preservatives.